Celebrate World Sake Day with Sake Dinner Sept. 30
Two Seattle restaurant veterans, Julie Shizukuishi and Rudy Velasquez, have teamed up to open a Japanese-inspired meat house in Wallingford called Kokkaku. Japanese for the skeleton that supports the body and its organs; the name hints at the whole-animal use at the restaurant and philosophy of "no waste," where only the kokkaku remains after butchery. A few weeks ago, the two stealthily opened the neighborhood restaurant, located at 2208 N 45th Street.
A not-to-be-missed affair is Kokkaku's September 30 sake dinner, held on the eve of World Sake Day (October 1), the traditional start date of sake production in Japan. The menu includes a five-course menu of Hudson Valley Foie Gras Pate and Cara Cara Orange, Tableside Soft Tofu with Kakitama Jiru, Totten Inlet Geoduck and Tagliatelle of Daikon, Miyazaki Wagyu New York Strip Loin with Oregon Wasabi, and Matcha Panna Cotta. Shizukuishi and Mr. Kamoto of Dewazakura Brewery will pair each course with Dewazakura sake, founded in 1892 by Seijiro Nakano. Price is $125, all-inclusive; 6:30-10 p.m. Online reservations are required.
Executive Chef Velasquez, a French-trained chef, is best known from the kitchens of Miller's Guild, Le Grande Bistro Americain, and Brunswick and Hunt, while Shizukuishi, a.k.a. Boss Lady (okami in Japanese), is a front-of-the-house alum from Miller's Guild (its former general manager), and has also managed local favorites Flying Fish and Campagne. To some, she's the infamous Sake Diva, having hosted many sake events in the area. The two met at Flying Fish, became fast friends and started waxing on about the Kokkaku concept. Shizukuishi eventually started bringing Velasquez different types of foods, asking him to cook it, and he took interest in the Japanese style of cooking, its approach and philosophy.
"My friendship with Julie turned into an entirely new way of cooking for me," Velasquez said, adding that he's roamed far from his French training to house-make items such as tofu, tonkatsu, dashi, and more. "Japanese cooking is very rule-specific; I take some liberties, so Japanese-inspired cuisine is more accurate to describe what I'm doing at Kokkaku."
The cozy 46-seat restaurant (including eight bar seats) is a carnivore's dream, offering largely beef and pork butchery for now, but likely to include beast butchery (wild game) in the future. Standouts include the Lan Roc Pork Cutlet Tonkatsu, Miso Braised Painted HillsBeef Rib Bone, Koji Pork and Kokkaku Style Fried Chicken (half or whole). Kokkaku also offers a unique steak by-the-ounce program, allowing customers to order beef flights, or just a taste of a given steak, including the much-coveted Wagyu. Food is served family-style, reinforcing the Japanese custom of dining.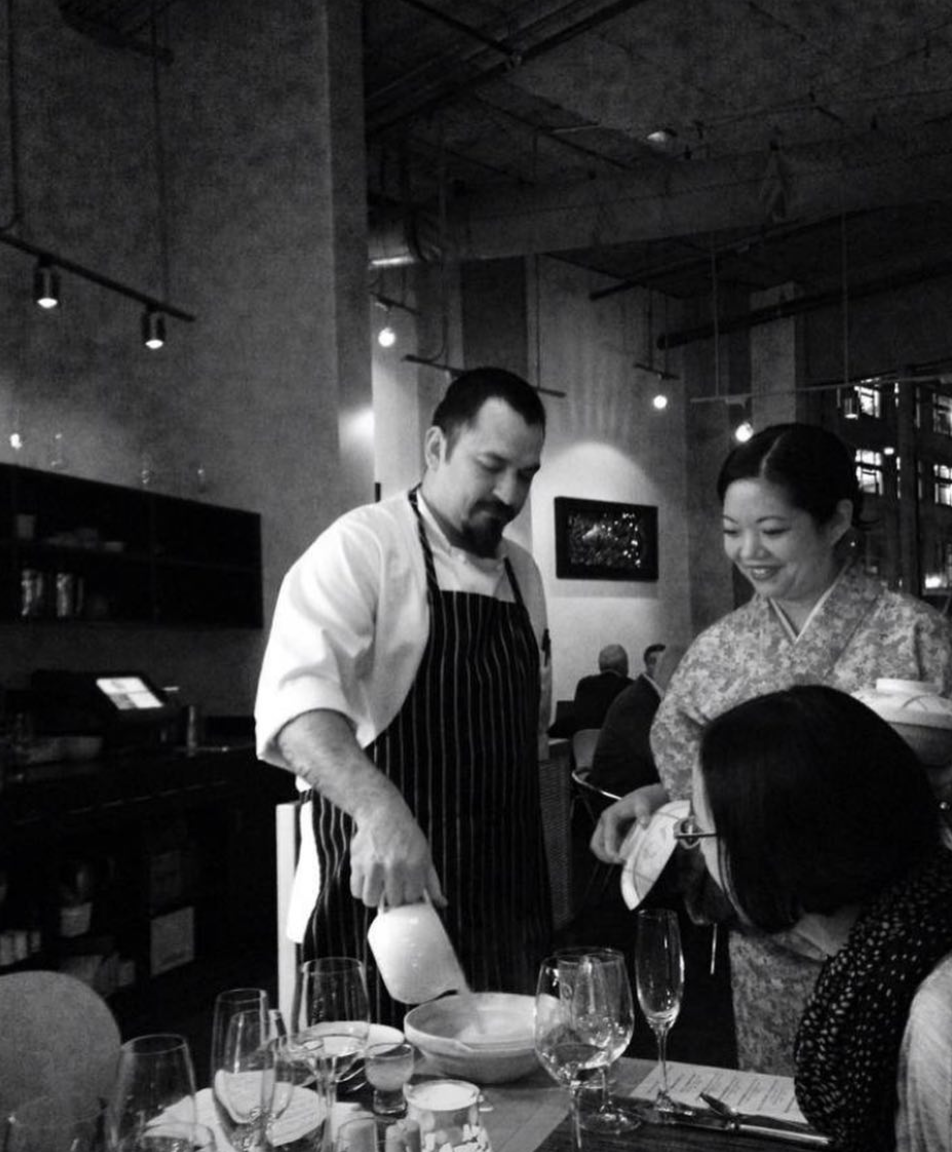 With a variety of cooking preparations including hot pot, Kokkaku uses fresh ingredients to maximize flavor, especially its meats, and has a reverence for high quality that shines through in every dish. A sampling of small plates, some with unconventional twists: Cherry Kimchi, made with ancho chile; a Tableside Duck Fat Brioche; Chicken Liver Mousse; Mishima Reserve Wagyu Beef Tartare; Braised Daikon Radish; and Ox Tail Potato Salad. For dessert, there's Semifreddo Tofu Cheesecake and Bone Marrow Custard.
At the bar, cocktails, beer on tap and a selection of wine also make room for a growing sake collection of hand selected imports and local Cedar River Brewing, curated of course by Shizukuishi.
Kokkaku is open Wednesday to Monday, 5-10 p.m. (Closed Tuesday). Learn more and watch for updates at http://kokkakuseattle.com, on Facebook and Instagram.