Guest Author: Gino Garcia
As a native Californian and former Angeleno, I've dulled out my fair share of "the tacos just aren't as good here."
But let's be real—there are lots of fantastic taco trucks in Seattle! And there's so much to love about our humble taco trucks, or rather, loncheras (similar to a taco truck, but they also serve other dishes like tortas, mulitas, quesadillas, etc.).
Over the course of one glorious week, I sought to eat at the many taco trucks scattered around Seattle to find the best of the best. Here are just a few of the best that Seattle has to offer, as well as some tips for your own taco adventures.
THE STANDOUTS
Taquería Latinos (Beacon Hill)
There are so many well-known taco trucks south of I-90 that it can be difficult to stand out. But Taquería Latinos does it. I arrived at Taquería Latinos half an hour before they closed for the night and fully expected to get end-of-the-day scraps. To my surprise, I had the freshest and tastiest plate of food that day.
The asada was salty and bursting with citrus. One bite of the golden-brown and juicy pork carnitas and you'll see how this dish has become one of the most obsessed-over in Mexican cuisine. And don't miss out on the cochinita pibil—a sweet and earthy marinated pork dish from the Yucatán—that you're less likely to see at other Seattle loncheras. The portions here are generous and the salsas are top notch. If you get a chance to meet the owner Jose Luis, tell him you think the salsas are awesome and watch him beam with pride.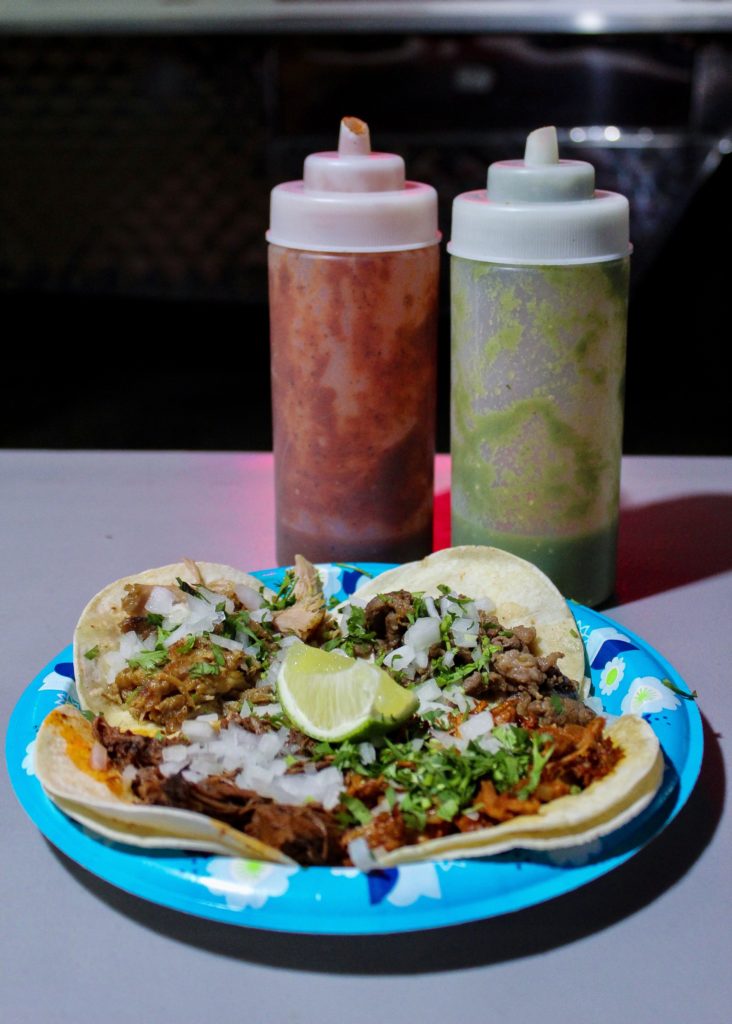 Anita's Mexican Food (Bitter Lake)
If Anita's didn't have a sandwich board on the sidewalk, you'd miss it. I sure did. This Aurora gem has a funny location next to the shuttered ruins of a motel and a Black Angus. Is it an odd location? Definitely. But these tacos will have you sticking around for awhile and leaving a few pounds heavier than when you arrived.
Every taco I ordered was hot, lavishly aromatic, and perfectly marinated. The asada was peppery with that fresh-off-the-grill crunch. The carnitas were all the things you'd want them to be, but it was their pastor taco that sealed the deal with its citrus and chile smoke. The real game changer at Anita's is that they lightly fry their tortillas so every bite comes with a whiff of warm maiz. Apologies to the people sitting next to me who had to hear a grown man audibly moan over a taco.
Taquitos Feliz (West Seattle)
If you're a long-time West Seattleite, you may have seen this truck when it was El Antojo. Fear not, it's the same exact menu and owners, but with a new name. Taquitos Feliz is just outside of Lincoln Park, with a covered eating area. Their menu is extensive with everything needed to satisfy the veteran taco enthusiast and curious newcomer, alike. For the ethical food lover, all their food is organic and locally sourced!
I could smell marinated meats being cooked from afar, which killed any self-restraint I might've had and led me to order all six of their tacos—asada, chorizo, carnitas, lengua, tripa, adobada, and fish. Their carnitas have juicy whole pieces of pork with addicting fried and crispy edges. The lengua is buttery and succulent. The fish and chorizo are good, but not 100% necessary for the first-timer.
If you had to pick a taco to round out your meal and you can handle some offal, go for the tripa (beef intestine). When prepared poorly, tripe is full of funk and chewy. But Taquitos Feliz's tripe is thinly sliced and salty like bacon. You won't find tripa at other trucks so do yourself a solid and get it here. Sound like a pro and order your tripa fried.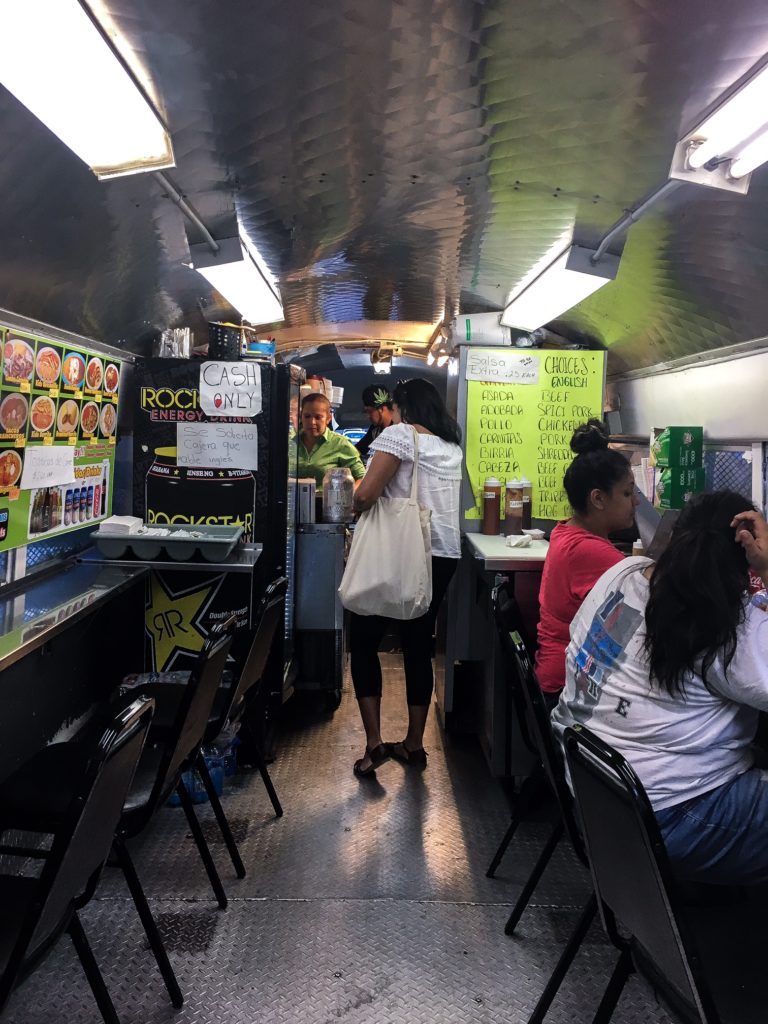 Taqueria la fondita (Whitecenter)
This list would be sorely lacking if Taquería la fondita wasn't on it. And with good reason, these are hearty and consistent tacos. I live in the Lake City area and would gladly make the pilgrimage to the southern outer edge of the city to eat at la fondita.
La fondita was the very last stop of my #tacoparty and it couldn't have been a better finale. La fondita has the benefit of many years of seeing what recipes their adoring, loyal fans respond to, so their marinated meats are fool-proof. You can't go wrong here, but if I recommend trying the birria here if you haven't yet. Birria is a dish from the Mexican state of Jalisco and was traditionally made with goat, but is now made with other kinds of meat. La fondita's birria has the tender, fall-apartyness that only hours of simmering can achieve.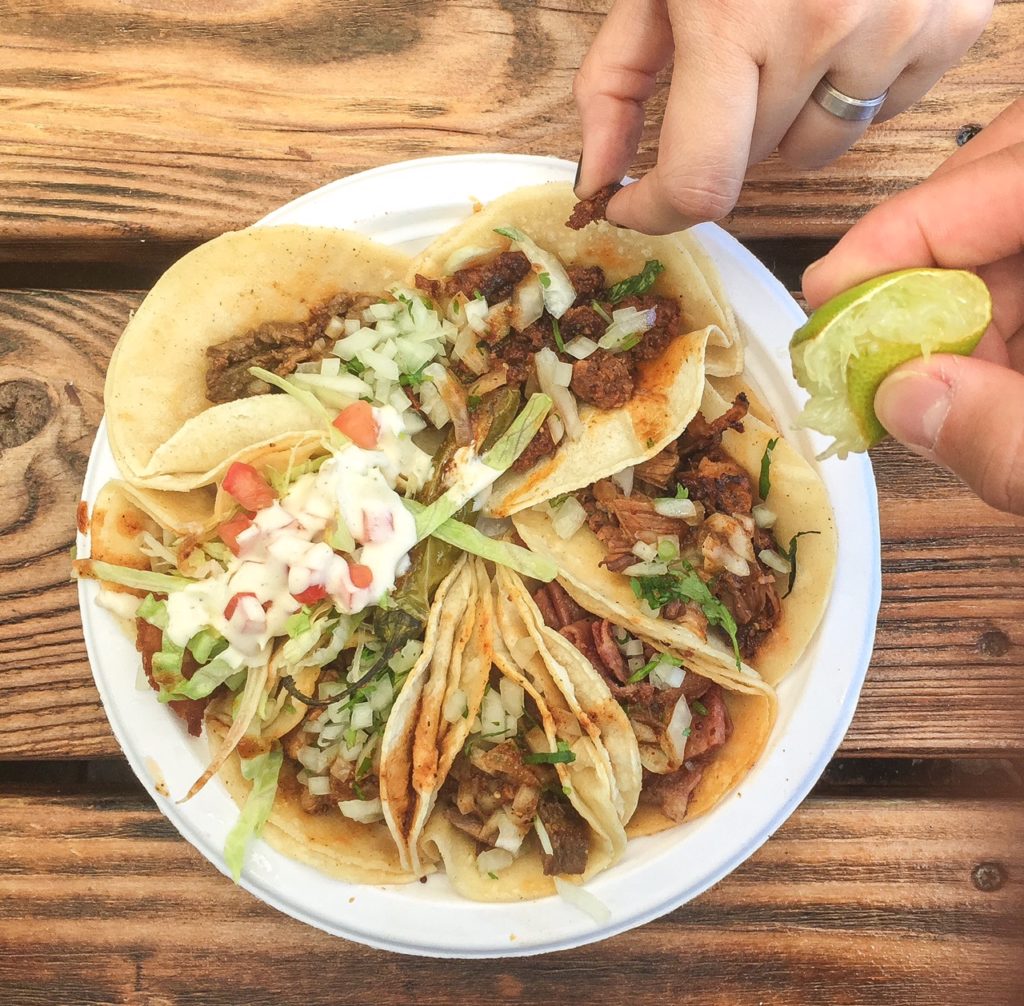 HONORABLE MENTIONS
They may not have made the top four, but these tacos still have a place in my heart. And love-handles.
El Asador
If you're looking for a bit more funk in a taco, go here for the buche, or pork stomach. It's fried, fatty, salty pork at its best. Buche doesn't hold up as well when it's not fresh, so go early if you can.
El Asadero
Another taco truck—or rather, taco BUS—in south Seattle, not to be confused with El Asador. This spot has reliably good tacos for a good price ($1.75 each). Somehow this truck bus is both very hard to miss (it's a bus) and very easy to miss (surrounded by a junkyard). Go for the good tacos, stay for the experience of eating inside a bus.
El Camión
It'd be weird to not recognize El Camión. This place is great, but you already knew that. There's a reason they've been so successful and have expanded to include multiple trucks and brick-and-mortars. Always a good option to have in your backpocket.
PRO TIPS!
Bring cash. Most trucks accept card, but better to be safe than sorry when tacos are involved.

Go early and during peak hours. The best time to eat at a taco truck is at night after bar crowds pour into the streets, when food is being turned around faster and will be fresher. But for a majority of Seattle taco trucks that aren't near these crowds, the freshest tacos will be closer to opening hours.

Be quick with your #instapic. Don't make the same mistake I did by spending too much time taking pics of your food and letting the tacos get cold. Tacos were meant to be eaten ASAP.

The taco truck world can be hard to keep up with. You may drive to a place you saw on Yelp only to find that it's been closed for a year. Or it's moved to another location that day. Always double check locations and, if they exist, cross-check with Twitter, Facebook, or the business' website.

Loncheras live dangerously with their recipes. The asada I had yesterday won't be the exact same one you have in a month from now. Things change from day to day, so take lists like this one with a grain of salt. And lots of lime.
THE LIST
Anita's Mexican Food

El Asador

El Cabrito

El Chapulin Oaxaqueno

El Naranjo

Flair Taco

Los Potrillos

Loxicha Authentic Oaxacan

Monarca Express

Tacos El Tajin

Tacos Las Delicias

Taqueria El Asadero

Taqueria la fondita

Taqueria La Original

Taqueria La Pasadita

Taqueria Latinos