I've been a bit obsessed with Le Petit Cochon since I first dined there a few months ago. The farm to table, nose to tail approach that Chef Derek Ronspies and the kitchen employ makes for (of course) amazing local, fresh dishes. Their hyper commitment to local farmers, produce and meats is something, as a food lover, that I find truly remarkable. I am honestly beyond impressed every time I eat here. From the burger with foie (swoon), to the Phat Ass Porkchop to the pork tartare – I've had a collection of truly extraordinary food here. I visited last week and was lucky enough to finally get to try the tasting menu and whoa, people – mind blown.
The dish: Toast with Grilled Oyster Caesar, Arugula, Bone Marrow Mousse, Parmesan and Panko.
This is a new addition to the menu and it's unbelievably flavorful and playful at the same time. I told Chef Ronspies that I could have eaten a dozen of these delicious little bone marrow toasts and I meant it.
The dish: (Left) Buffalo Pork Belly with Carrot, Buffalo Butter, Blue Cheese and Celery Vin. (Right) Crispy Duck Feet with African Chili, Tarragon Tzatziki, Cilantro, Mint.
THIS PORK BELLY. I don't have words really. It was like meat butter melting in my mouth. This is not to be missed when dining at LPC. And this was my first time eating duck's feet, but I have to say, they were bomb. My server Firenze sits it in front of me and tells me "You know how skin is the best part of fried chicken?" (I nod.) "Same thing, Steph. The crispy skin is what you wanna eat." He was absolutely right, that skin was to die for. And the spiciness from the African chili juxtaposed with the tarragon tzatziki was absolute perfection.
The dish: Tomato, Arugula, Fennel, Olive Vin, Pickled Watermelon Rind, Black Garlic Oil.
This lovely little dish is one you may overlook on the a la carte menu, but I'd encourage you to look again. I love the fresh, simple ingredients that compose these smelts. The little salad they sit atop compliments the perfectly crispy fish super well.
The dish: Pleasant View Farm Smokey Seared Foie atop an Oatmeal Pancake with Collards, Huckleberry Vin, Hazelnut and a Buttermilk Roe.
Okay people, if you don't like this then there may be something seriously wrong with you. That seared foie, oh my gosh – flavor explosion in my mouth. I am going to be having dreams about this dish.
The dish: Neah Bay Rock Fish over Masa Cake, Pozole, Lime Crema, Trogurt, Red Cabbage Slaw, Okra and Radish
Sometimes the dishes here are just too pretty to eat (almost). The remarkable thing is they taste just as good. The pozole brought this dish together in the most delicious fashion!
The dish: Sweet Potato Puree, Fennel Cream Spinach, Trumpet Mushrooms, Tobacco Honey Crispy Onions, Demi Glace
Well, everything was good but this was my favorite. I mean come on – wagyu beef strip loin – of course it was. This dish is new to the menu and one I can tell the kitchen and chef are proud of (and they should be!). Don't want to do the tasting menu? Don't worry, you can order it a la carte.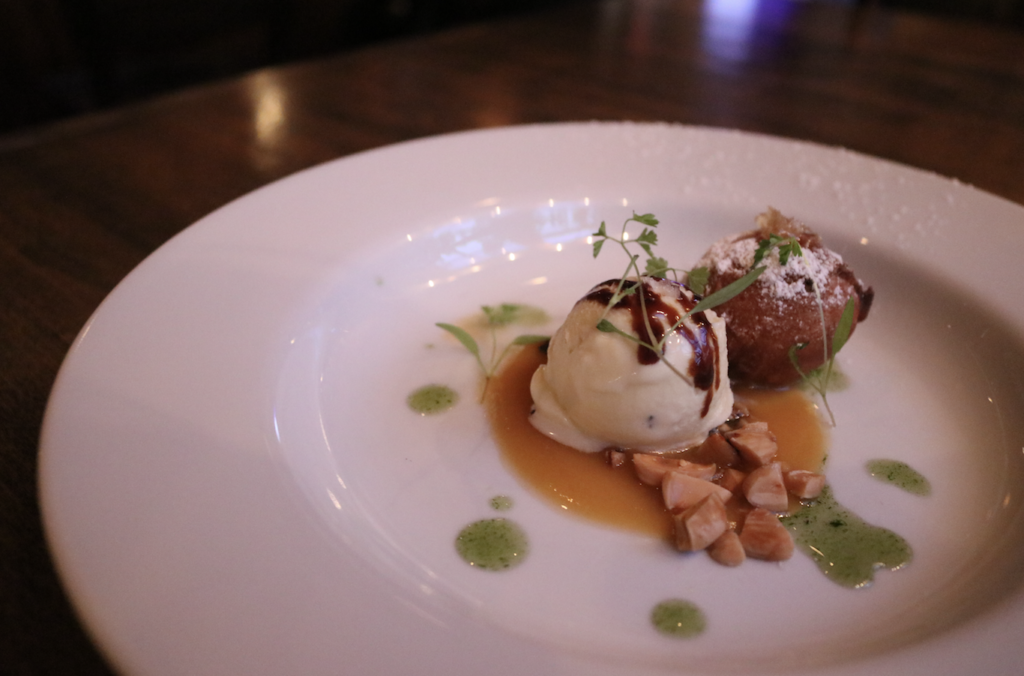 The dish: Collins Family Orchard Peach Beignets with Peach Jam, Pecans, Blue Cheese Ice Cream, Sidhu Farms Honey Comb, Tarragon
This is absolutely one of the best desserts I have ever had. Why have I not had blue cheese ice cream before, why?! It was phenomenal and went perfectly with the peach beignets. Blue cheese and peach – who knew those flavors were just dying to be put together?
The dish: The Phat Ass Pork Chop: Chickpea and Cauliflower Salad, Goat Cheese Fritters, Black Garlic Vin, Za' atar Yogurt, Grilled Peach, Marinated Kale
Le Petit Cochon is in Fremont and serves dinner Tuesday to Saturday from 5 to 10pm and you can order a three course menu for $60 per person or a 6 course tasting menu for $105 per person (requires participation of the entire party). You can get really ambitious and order it "Beast Mode" style which means adding their Phat Ass Pork Chop to your tasting (I'm not sure if this is crazy or genius, either way – dining goals).
Stylish foodie destination specializing in innovative & eclectic farm-to-table dishes with full bar.
—
Le Petit Cochon