Lecosho has been one of my go-to spots since I moved to Seattle. I've been obsessed with this restaurant since the first time I visited. What's not to love – the amazing happy hour, fantastic pacific northwest inspired menu or the impeccable service? It's also worth mentioning that Lecosho is a restaurant where you will find the owner on the line every day at lunch expediting and, I don't know about you, but those are the restaurants that I want to support. On Friday, Lecosho launched their new Fall lunch menu and I snuck in today to photograph a few of the highlights.
Grilled Chicken & Fall Hash: Roasted Squash, Fingerlings & Turnips, Beecher's Cheddar Fonduta, Pickled Shallot, Kale Salsa Verde, Black Quinoa, Pepitas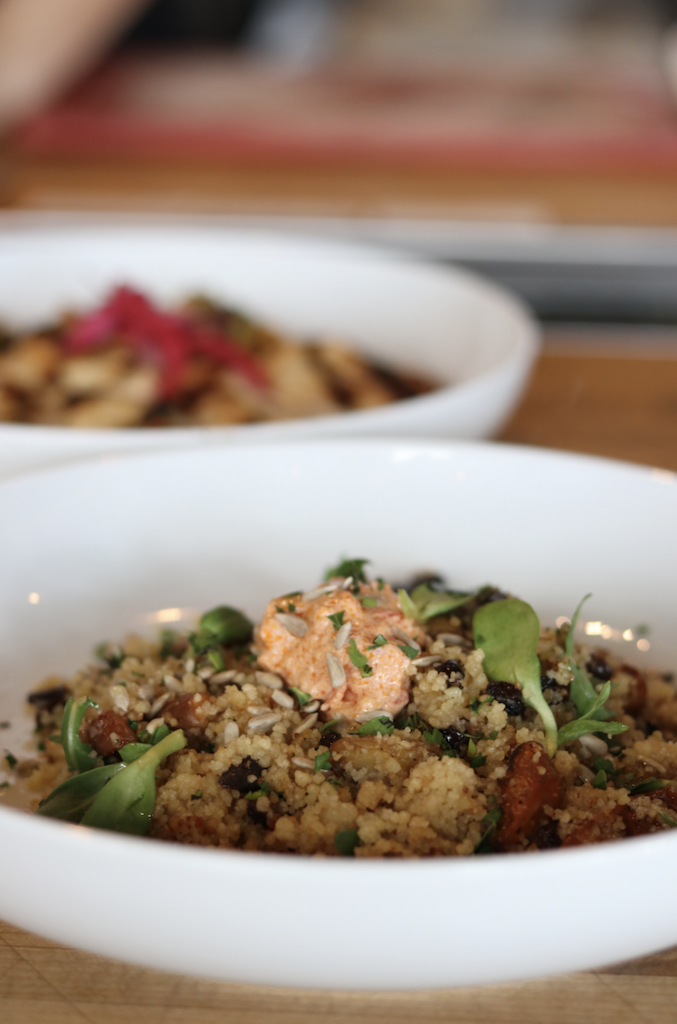 Cous Cous: Roasted Rainbow Carrots, Cous Cous, Currants, Preserved Lemon, Sweet Harissa Yogurt, Sunflower Seeds
Kale Salad: Shaved Baby Turnip, Kale, Asian Pear Frisee, Tarragon, Honeycomb Vinaigrette, Seeded Cracker
Pan-Seared Arctic Char: Cornmeal-Crusted Char, Celery Root Remoulade & Frisee on a Grilled Ciabatta Bun

I could tell from talking to Matt Janke, the owner, that he was most proud of the Arctic Char Sandwich and I could see why – it looked incredible. I'm coming back to have this, and soon. Other new items on the fall menu include a roasted beet salad with a pomegranate-balsamic vinaigrette, fresh tagliatelle with wild mushrooms and a porchetta sandwich. Oh, and the Painted Hills Burger is still on the lunch menu and it's one of the best damn burgers in Seattle (note: only available on the lunch and late night menu).
Lecosho
89 University St, Seattle, WA 98101