150 Local Restaurants Offering Lunch for Under $6
MealPal, the subscription service that provides members with affordable daily lunch options from hundreds of restaurants, today announced its second West Coast market with its launch in Seattle. Already widely used in the Bay Area and around the globe, MealPal customers in Seattle will skip long lines and enjoy lunch for under $6 from popular restaurants like Din Tai Fung, Evergreens Salad, Pike Place Chowder, Pokeworks, 206 Burgers, Pasta Casalinga, Kigo Kitchen, and many more.
Through the MealPal website or mobile app, hundreds of local restaurants – both large and small – offer one dish per day to subscribing members. Members can browse meals available at restaurants near them or filter meals by cuisine and ingredients. By pre-ordering the night before or morning of and setting a pickup time, busy working professionals can skip time-consuming restaurant lines, save money and get out of their lunchtime rut.
"As a rising technology hub with a strong foodie scene, Seattle is a perfect market for MealPal," said Mary Biggins, co-founder and CEO of the company. "We are excited to connect Seattleites with their favorite restaurants in a new and more affordable way. Seattle has the potential to bring the best food offerings yet to our members."
MealPal is offering Seattle members two different subscriptions for lunch: a 20-meal plan for $5.59 per meal and a 12-meal plan for $5.99 per meal. With a subscription, MealPal members can select lunch from over 150 restaurants offering thousand of meals. Using MealPal, consumers will save more than 40% over the exact same dishes that cost $10 to $15 when ordered off the restaurant's menu.
MealPal launched in 2016 and quickly expanding to 14 key markets, including New York, Washington DC, San Francisco, London, Sydney, Paris, and Toronto. To date, the service has served more than 8 million meals from thousands of restaurants around the globe.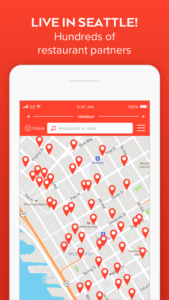 MealPal isn't the first app around town to offer office workers a convenient way of getting lunch like Peach, but it does offer compelling advantages that will entice Seattleites to make a move into this new service.
MealPal is affordable. 50% cheaper in cost per meal on average.
Convenient. You can skip the line and pick up your meal at the selected restaurant of choice.
Great food. MealPal is focusing on getting the best restaurants on board to give customers a better dining experience.
We asked Co-founder Mary Biggins how restaurants can possibly afford to offer customers such a low price and she told us, restaurants will be offering one special dish per location and be able to control volume and pricing much better. Restaurants will also be benefiting by reducing labor cost (national average about 35% of their expenses) with this new model.
MealPal will start with lunch offerings but plans on exploring other options like breakfast and dinner in the near future.
Here is a list of Seattle restaurants:
Poke Alice, Sushi Kudasai, Pike Place Chowder, Din Tai Fung, Homegrown, Pasta Casalinga, Evergreens, Sprouts, 206 Burger, Pokeworks, Kigo Kitchen, Walla Walla, Kigo Kitchen, Cherry St. Coffeehouse, Mel's Market,The Organic Coup, Noi Thai, Dahlia Bakery, Sweetgrass, Pressed Juicery, Marination, Great State Burger, Kiki Ramen, Toss'd Specialty's, Veggie Grill, Pho Bac, Manmoon Street, Chip&Drew's, Assembly Hall, Ferryhouse Noodle, Venison Pho, Skillet, Blue Water Taco Grill, Sound View Cafe, Los Agaves, Three Girls Bakery, Citrus Thai, Dawaat Grill, Romio's PIzza, Little Maria's Pizza, US Courthouse Cafe, Joy Bento, Moghul Express, Gyro Express, Fresh Table Cafe, Cafe ZumZum, Gyros Place, Delinomore, Piroshki on 3rd, Taco Del Mar, Mustard Seed Cafe, Commissary Korean Kitchen, Essential Market, Mae Phim Thai, Moore Cafe, Luigi's, I Heart Sushi, The Frankfurter, Farvahar Persian Cafe, Bibimbap, Springthyme Bakeshop, Happy Teriyaki, Kastoori Grill, Al Basha, NYC Market Deli, Vovito, Bimbimbap King, James Moore Bar & Kitchen, Market Grill, Custom Smoothie, Saffron Spice, Miss Cafe, Dog In The Park, Davids & Co., Asian Express, Bowls & Noodles, Flame Cafe, Mariscos Mexico, Genghis Khan, Mediterranean Mix, Wild Tiger Pizza, Market Diner, Bavarian Meats, Joy Bento, Mr. D's Greek Delicacies, Eggs & Plants, Lula's Salads… And Many More.
Participating restaurants are located in the densely populated areas near South Lake Union and Downtown Seattle. As in San Francisco, MealPal expects its subscription service will help ease lunchtime challenges faced by working Seattleites, including long lines at restaurants located near large technology campuses and high prices charged by delivery services.
To learn more and sign up for a better lunch experience, visit www.mealpal.com.
About MealPal
MealPal is the subscription service that makes lunch pick-up from restaurants convenient and affordable. MealPal helps restaurants increase efficiencies and revenue during the peak hours and provides a convenient way for MealPal members to receive high quality, affordable, and delicious meals around where they live or work for a flat, monthly fee. Founded in 2016 by Mary Biggins and Katie Ghelli, MealPal has facilitated more than 8 million reservations and is currently available in select cities across Australia, the United States, Canada, United Kingdom and France.