Value Village Shop, Reuse, Reimagine
As a way to celebrate National Thrift Shop Day, I was one of three Seattle influencers who teamed up with Value Village™, a part of the Savers® family of thrift stores, to share what's possible with thrifted goods — while having fun, creating one-of-a-kind looks, saving money and supporting our environment. My mission, to transform an empty, reused shipping container into a beautiful, designer-forward breakfast nook inspired by my own personal style and aesthetic.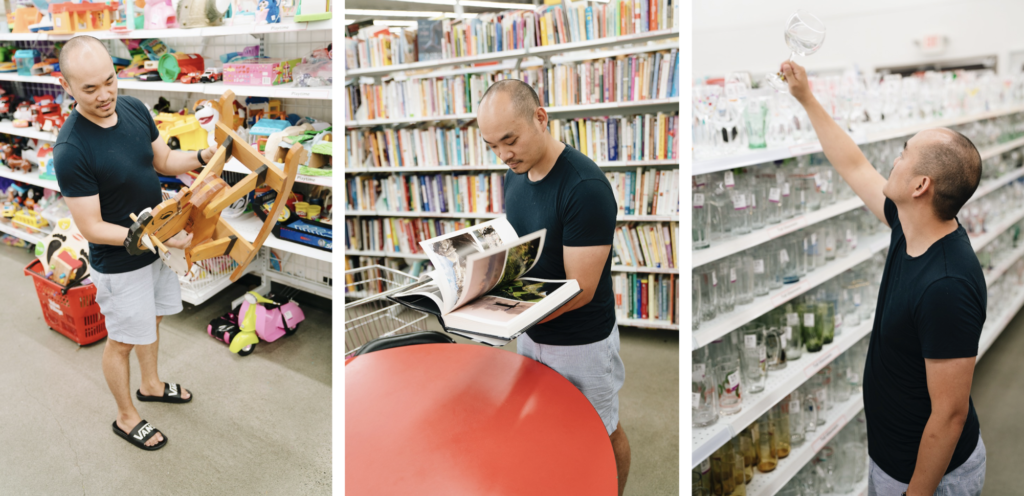 The first thing you need to do when outfitting any room, or in this case a shipping container, is figuring out the measurements of the space and mocking up what it could look like. This will help you figure out the types of goods you need to thrift, to make the space look proportional with everything. Knowing I had a tight space to work with, it was important to create enough space for the largest items like the main dining table, and a nook table for all the dishware, glasses, bowls, and other household items. My interior design style is a mix of mid-century modern and scandinavian. I'm a huge fan of a home with clean, crisp lines, a simple color palette and the use of materials that include glass, steal, metal, and anything gold. I managed to find some beautiful gold-rimmed glassware that matched perfectly with a set of 4 golden chairs.
With Value Village™ stores placed around the city, it's convenient to find one fairly close to you. For me, the closest location was the one in Tukwila. I managed to find a ton of gems here including glassware, books, plates, kids wooden blocks, a vintage polaroid camera, and various statement pieces like a golden bulldog.
One of my favorite things about thrifting is finding things you didn't originally expect or were intending to look for. For example, you may be looking for a set of vintage cups, but you end up finding a stunning light fixture (see photos below). Another big reason to thrift is being able to save a ton of money and being environmentally friendly through reusing goods.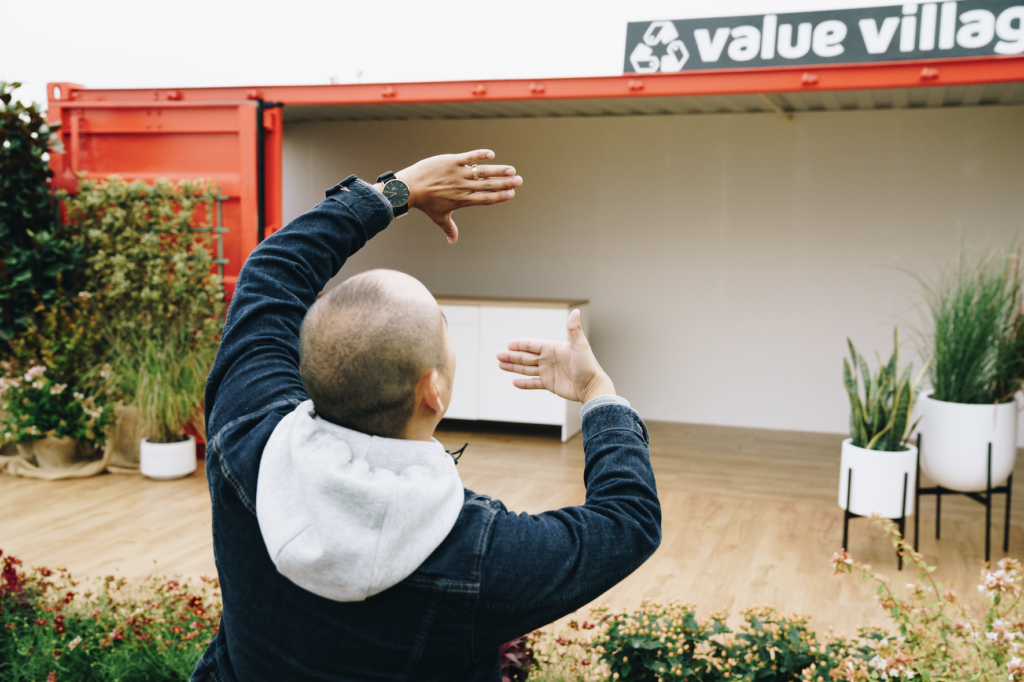 After all the goods were purchased and brought over to the destination, Don Armeni Park, we were set to start building out the space with everything we found in various thrift stores. It started by visualizing the space then arranging the items in the appropriate places of the shipping container. I made sure every detail placed in the space had a purpose or story to the overall look and feel. As the space started filling up, one detail that I have a personal love for is photography. I started shooting old-school polaroids since I was in Elementary school. This then evolved into shooting professionally for brands, restaurants, and Fortune 500 companies. This was a unique touch I added in the space with my 14-month-old daughter being a highlight.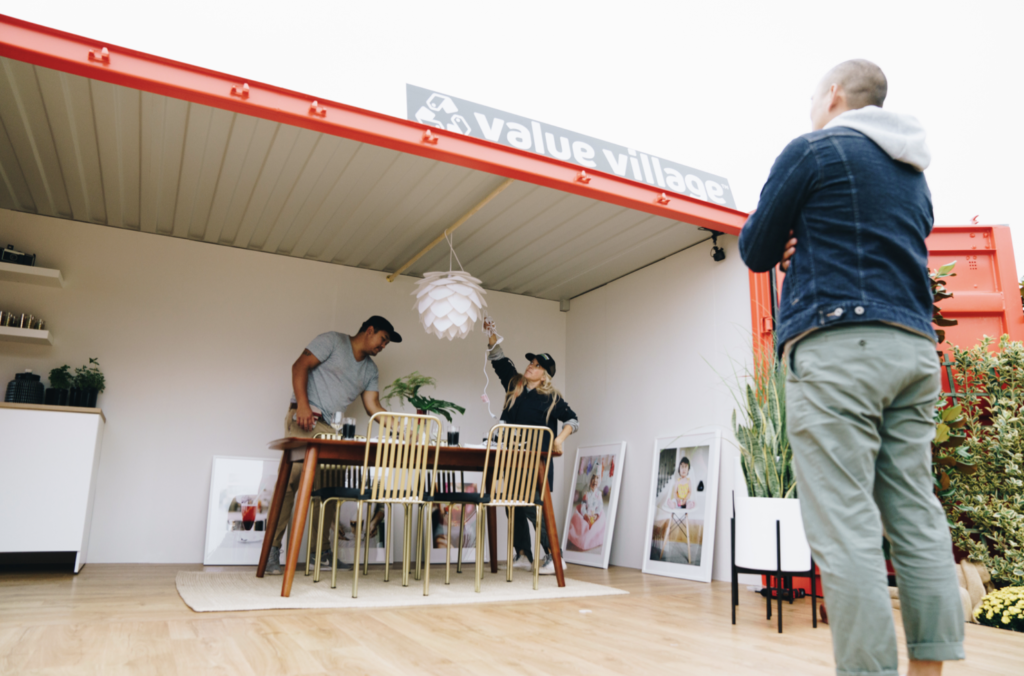 Plants are my thing — it brings color, energy, and beauty to your space. I especially like to use a mixture of fresh and some artificial plants throughout the house to give it variety and also reduces plant management. For my space, we added a centerpiece plant to the dining table which made the area pop and not so flat.  
The outdoor space includes a kid-friendly chalkboard, toys and a pair of bright yellow chairs for kids to lounge around while they play, and the adults sip on a glass of chardonnay. The cool thing about everything we found for the outdoors was found at various Value Village™ stores.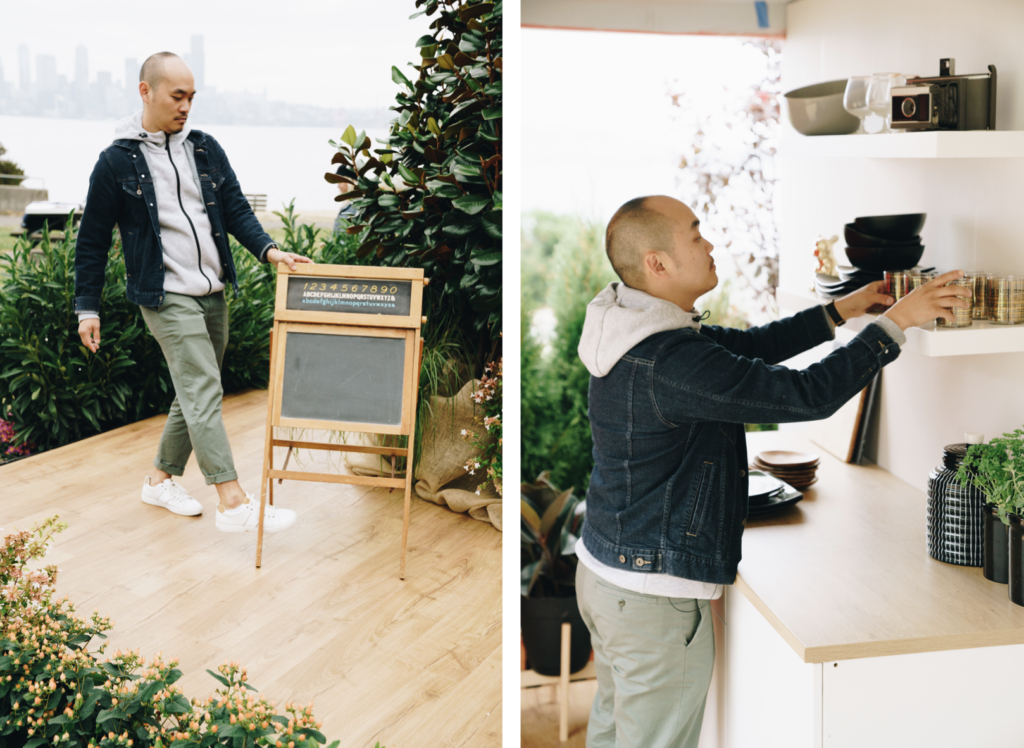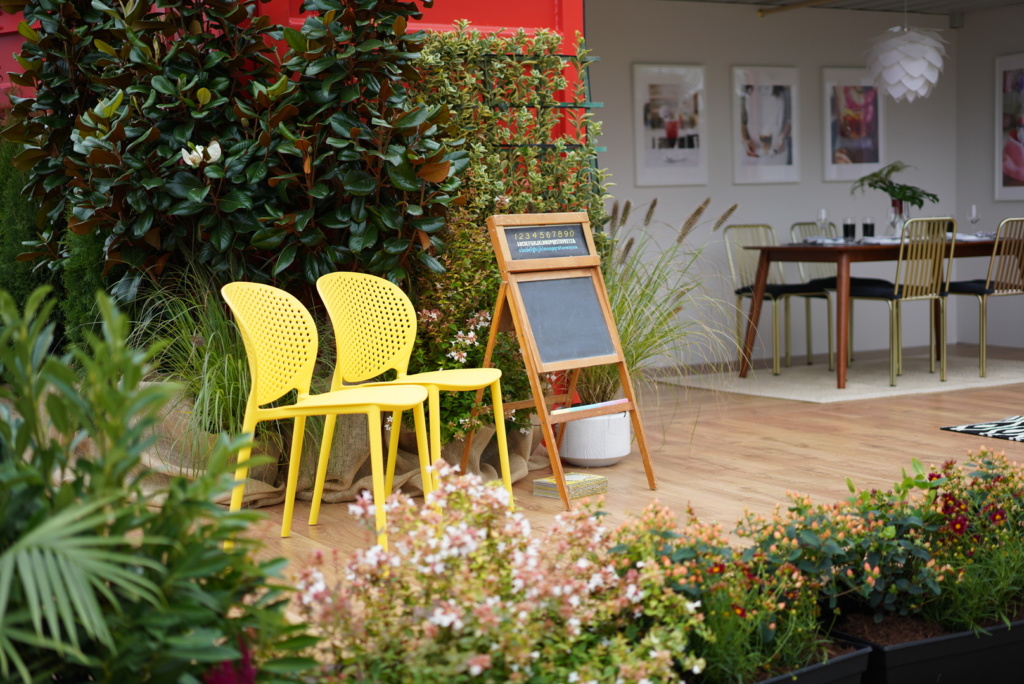 A home is not complete without some sweets. That is why, I brought in my friend Mi Kim from Raised Doughnuts to showcase her handmade doughnuts she makes each morning while most people are sleeping. Guests stopping by the Value Village™ got to experience a glimpse of what is possible with thrited goods, and some delish doughnuts.
Here are some tips for success if you're planning on thrifting out a room or space of your own:
Measure your space. Design with purpose and plan it out to be the most effective with your space.

Be open. Thrifting is about curating products and making it your own. There's no form book or the right way to thrift. Go to a Value Village™ with an open mind and you'll find some unexpected gems.

Be patient. You may not find the perfect chair, glassware or table right away, but if you keep looking and on various days, you will find it.

Visit other stores. Each store is unique and will have different goods so go exploring.

Have fun. Thrifting is a thrill! Find a friend or go solo and see what type of masterpiece you can create.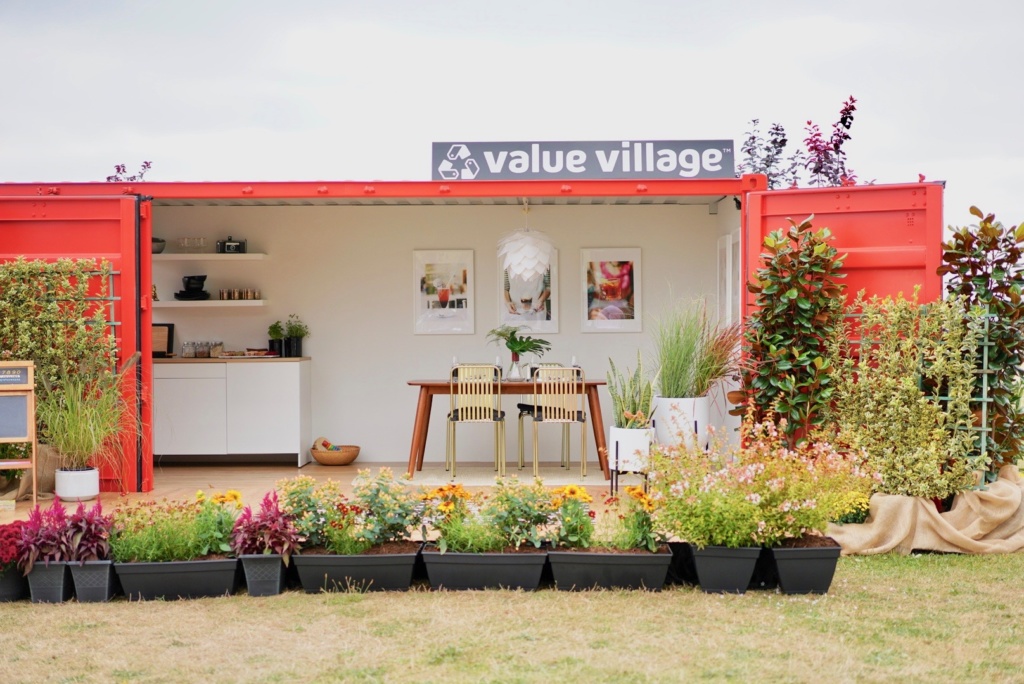 This collaboration with Value Village™ really opened my eyes to what's possible if you spend a little time planning, curating goods from thrift and making them your own. My key takeaway is you can design a magazine look without spending magazine dollars. Join the reuse and reimagine movement!   
Make sure to check out transformations from Emma Cortes and Joanna Hawley. Ready to start thrifting? Click here to find the closest Value Village or Savers to you.