Constantly checking facebook events to see what's happening in Seattle's food community? Me too. There's a lot going on in Seattle this spring, and whether you're visiting or a native, there are some amazing food festivals you won't want to miss. Whether you're a beer loving carnivore, or a gluten-free gal with a nut allergy, there is a festival happening just for you. For the best deals, purchase your tickets ahead of time and get excited to taste some of Seattle's best food!
Seattle Cheese and Meat Festival: April 20th
Each attendee at this event is greeted with a charcuterie board and a sample glass to pick up tastings from local companies and restaurants. This festival is broken down into tasting sessions during separate time periods to avoid an overwhelming wave of people trying to grab the last samples. Each ticket includes access to every food and beverage being offered during the allotted tasting period.
Price: $35-150
Location: Block 41
Seattle Bacon and Beer Classic: May 4th
Featuring two of life's greatest indulgences, this festival pairs beer from regional breweries with over 30 different bacon dishes created by local chefs. To make this event even more over-the-top, there are plenty of games and entertainment to give your stomach a rest before your next taste!
Price: $69-125
Location: T-Mobile Park
Green Lake Food Walk: May 18th
In this art-walk style event, restaurants from the Green Lake neighborhood prepare samples for all walkers to taste. Each attendee is given a wristband and full access to collect coupons and taste dishes from these local restaurants.
Price: $10-15
Location: Green Lake Neighborhood
Taco Libre Truck Showdown: May 18th
This showdown includes 25 different local taco trucks serving their variation on taco themed dishes, all for under $5 a pop. A basic ticket will get you access to the festival as well as admission to see the Lucha Libre fight. Higher priced tickets include beer and margarita tastings from multiple different vendors.
Price: $5-35
Location: South Lake Union
Lamb Jam Seattle: May 19th
Lamb Jam is a national food tour that stops in only six cities, and is making its way to Seattle this Spring. Using fresh food and meat from local farms and ranches, 16 acclaimed Seattle chef's will create delectable dishes for festival-goers to taste.
Price: $75-125
Location: Seattle Design Center
Bacon Eggs and Kegs: June 22nd
With 40 breweries and ciders and 13 food vendors, this event may be leaning more on the side of kegs than bacon and eggs, but I don't think that will create any complaints from visitors. If you're a fan of brews and breakfast, this event has your name written all over it. To balance out the heavy eating and drinking, games and entertainment are available for enjoyment throughout the festival.
Price: $35
Location: Centurylink Field
Seattle Street Food Festival: July 6th
Seattle's largest gathering of food trucks features over 150 different local vendors. You can make this festival as cheap or expensive as you'd like depending on how many vendors you choose to visit. Grab a group of friends and let your taste buds go wild!
Price: Vary upon purchase, no set price
Location: South Lake Union
Bite of Seattle: July 19th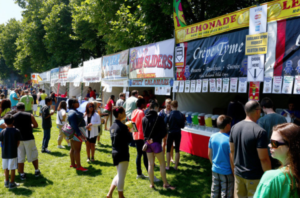 With tickets between ranging from $22-$37 and over 60 restaurants and vendors, you get a whole lotta bang for your buck at Bite of Seattle. This festival also includes craft beer and cider, as well as live music and entertainment. If you're not interested in sampling food and drink, you are still welcome to attend the festival for free!
Price: Free-$37
Location: Seattle Center
Grilled Cheese Grand Prix: September 14th
A classic dish that never goes out of style, this grilled cheese festival is every cheese lovers dream (and probably every lactose-intolerant persons nightmare). Over 20 different food trucks gather in South Lake Union to create their best version of the world's greatest sandwich. To cleanse your palate, over 30 different beverages are available to try as well.
Price: Prices released April 14th
Location: South Lake Union
Seattle Nourished Festival: September 21st
If you're someone who misses out on food events due to allergies, or fears that a dish might not actually be gluten-free, this festival was made for you. Completely gluten-free and allergen friendly, this event hosts over 100 exhibitions sampling product, distributing coupons, and giving classes on food for everyone. With tickets starting at only $5, this is a great event to stop by even if you are a gluten and dairy lover.
Price: $5-35
Location: Seattle Center