Pyramid Alehouse announced today that it will kick off the holiday season on November 30 with the unveiling of "keg tree" the size of a two-story house, chainsaw ice sculpting, live reindeer, and the donation of $100,000 to Food Lifeline of Western Washington. This festive, celebration takes place at the Pyramid Alehouse from 5:00-9:00pm with the official donation and lighting ceremony at 6:00pm. Entry is free, beers will be for sale in the beer garden.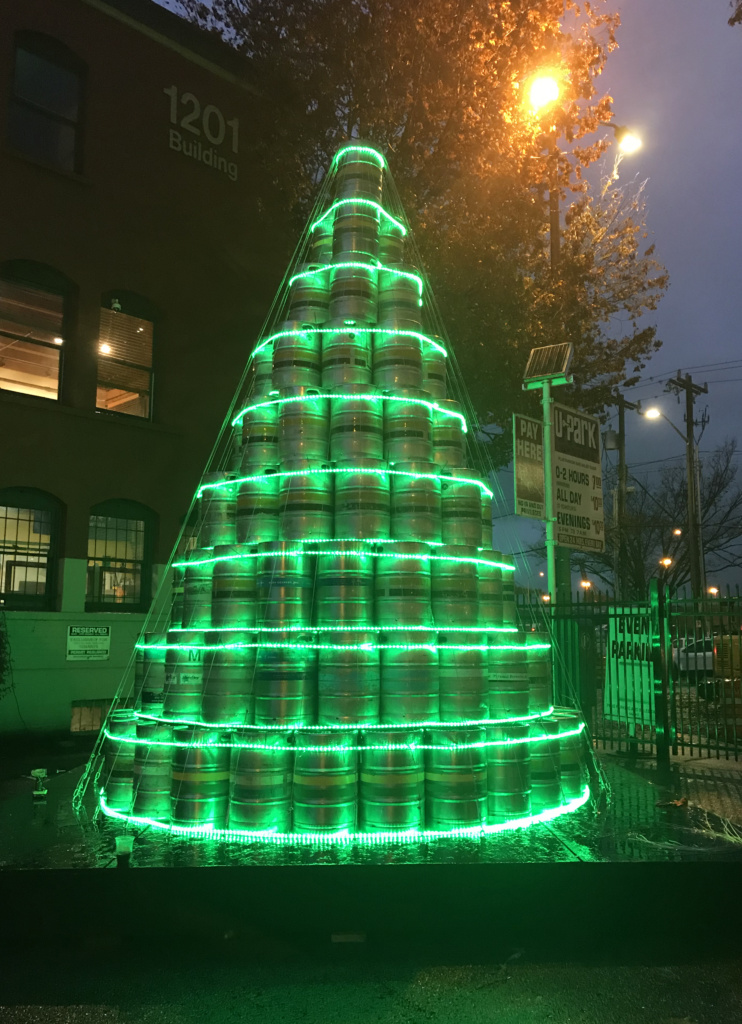 Pyramid will construct the keg tree from 322 stainless steel empty beer kegs. At ten layers of
kegs, the tree will reach 24 feet in height, contain more than 1,300 feet of LED lights, weigh
13,500 pounds, and be topped with a Pyramid Brewing neon sign.
For the party the Alehouse parking lot will be converted into a winter wonderland. In addition to
the keg tree, ice sculptures, and reindeer from 5:00-7:00pm, Pyramid will host a DJ, a six-
person Santa's sleigh, and a photo contest to win a ski chair.
From the beer garden, the brewery will pour a number of wintery brews including the seasonal
classic Snow Cap Winter Ale and a special Gingerbread Stout brewed just for the party. Perfect
for a chilly night, the Stout is smooth and creamy, with holiday pie flavors from ginger,
cinnamon, nutmeg, and clove.
"It's easy for the gigantic keg tree to steal the show but the most exciting part of the event for us
is that we're able to give back to our local community," said Pyramid Alehouse General
Manager, Michael Simenstad, "We recognize that hunger is an issue in our region, so we're
thankful to partner with the Food Lifeline of Western Washington to provide meals throughout
the year."
The November 30 cash donation to Food Lifeline of Western Washington is part of Pyramid
Brewing's BrewsThat Do initiative, which launched earlier this year as a way to fight hunger in
the Pacific Northwest.
Pyramid is giving a portion of its 2019 Washington and Oregon beer sales to Food Lifeline of
Western Washington and Oregon Food Bank respectively. The check cut at the Keg Tree party
includes the Washington portion of the commitment through October, so the total donation
amount will keep rising through the holidays as drinkers continue to purchase Pyramid's beer.
For every case of beer sold, Pyramid's contribution provides up to three meals through the food
bank.
For those looking for more opportunities to give, Keg Tree event visitors may also drop off
canned food at the event and donate directly at Food Lifeline's information booth.
About Pyramid Brewing Co.
Born in the Pacific Northwest, Pyramid Brewing Co. crafts some of the PNW's favorite brews
from its year-round ales and lagers to the seasonal and Brewer's Reserve series. In 1984,
Pyramid discovered a new way of crafting beer, bringing together adventure, friends and bold
new flavors and innovation. Today, Pyramid shares this spirit through its craft beers, and at its
breweries and alehouses in Seattle and Portland. To Find your Pyramid, visit: www.pyramidbrew.com.