Another Northwest Chocolate Festival has passed, and we are nearing Thanksgiving, my other favorite day of the year. Before I start thinking about all the different kinds of mashed potatoes I'll be eating, here's a quick recap of this years festival. I'm always impressed with the diversity of flavors and vendors at this festival, and I always leave with a belly full of chocolate! 
What's Trending in The Chocolate World?
Single origin chocolates made a prominent appearance at last year's festival, but it seemed to be even more the rage this year. About half of the vendors were sampling single origin chocolates from Central and South America. Personally, I'm not a fan of most single origin chocolates. My chocolate of choice is dark, rich, creamy, and melts in your mouth. A lot of the single origin chocolates are fruity, floral, and slightly acidic, which doesn't quite please my somewhat traditional palate. I will say, however, that most of these single origin chocolates were small-batch and high quality, they just didn't fit my bill for delicious indulgence.
Out-There Flavors
As always, the festival brings in vendors showcasing some funky flavors and mix-ins. I've only been attending this festival for the last three years, but every year, companies are getting more creative with their chocolate. Many chocolatiers are infusing different herbs and spices into their chocolate, from rosemary to marsala chai, these chocolates gain greater depth of flavor from the addition of these unique ingredients. On the other side of things, I saw a much wider variety of milk bases used this year. Two milks that surprised me were oat milk and camel milk. The oat milk was fairly strong and a little too sweet for me, but the camel milk chocolate was velvety and smooth; one of the better chocolates I tried that day. 
Best of The Festival
After hours of chocolate sampling, there were a few vendors that I stopped back at for more. (That's saying a lot!)  My favorite chocolate was, for the second year in a row, Gusto's lemon pepper white chocolate bar. As someone who doesn't go for chocolate under 55% cocoa content, you should trust me when I say this white chocolate is out of this world. To be honest, Gusto and Forte was my top choice of vendor overall; they have an incredible talent for balancing flavors and creating unbelievably creamy chocolates. Another Seattle company was up there on my list of favorites, Bakery Nouveau. While they are known for their delicious pastries, they nailed their chocolate as well. Their dark chocolate almond bar was simple, but executed wonderfully; not too salty, not too sweet, just a nice balance of creamy chocolate and roasted nuts. Rounding out my top three was Oregon Bark and their chocolate-covered peanut butter flake candies. These gourmet butter-finger like candies were a peanut butter lovers dream.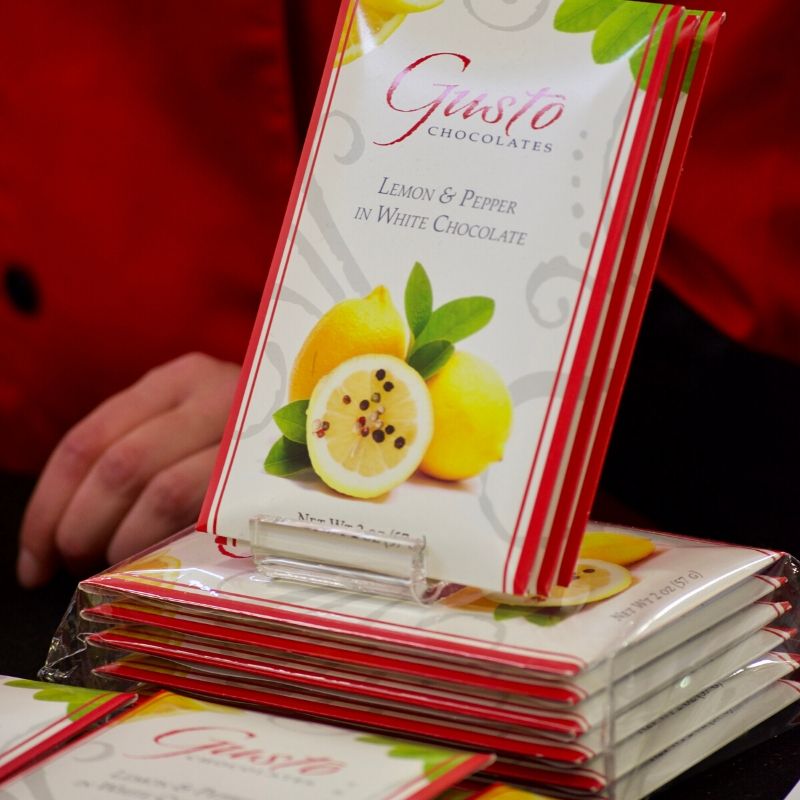 My Favorites & Honorable Mentions
Gusto Chocolate, Forte Chocolate, Bakery Nouveau, Oregon Bark, JoyVille Chocolate, Joe Chocolates, Al Nassma Camel Milk Chocolate, DAM Good Chocolate, French Broad Chocolates, Hot Chocolat Artisan Chocolates, Jordan Delights