Eight Row in Green lake to host Fresh Hop Tasting Menu Tuesday November 12th – 24th
Eight Row
 Executive Chef and Owner David Nichols has announced the debut of a special prix fixe pairing menu, with each dish designed around a fresh hop beer brewed in Central Washington, home to Nichols's family orchards. Nichols will also feature central Washington ingredients, such as Okanogan beef and produce from Kings Garden of Carleton, Wa. The menu will be available Tuesday, November 12
th
 – 24
th
.
"We'll feature the tasting menu until the wet hops runs dry. We partnered with four phenomenal breweries, and are excited to offer a tasting menu centered on one of Washington's most important crops: hops. The support we've received from the producers has been phenomenal." The lineup includes beers from Single Hill (Yakima), Old School House (Winthrop), a Bale Breaker (Yakima) in collaboration with Seattle's Cloudburst, and Icicle Brewing (Leavenworth) in collaboration with Payette (Boise). "Most fresh hop events are behind us now" adds Nichols's brother and Director of Operations Ian. "This feels a bit like the last hurrah. It'll be great to discuss with customers the incredible work that these breweries and farmers are doing."
Eight Row is a passion project by Nichols and his brother, which looks to celebrate the Pan-American cultural landscape of Washington orchard country, and showcase the work of family farms similar to their own. The restaurant is located at 7102 Woodlawn Ave N.E. and is open daily from 4-10pm.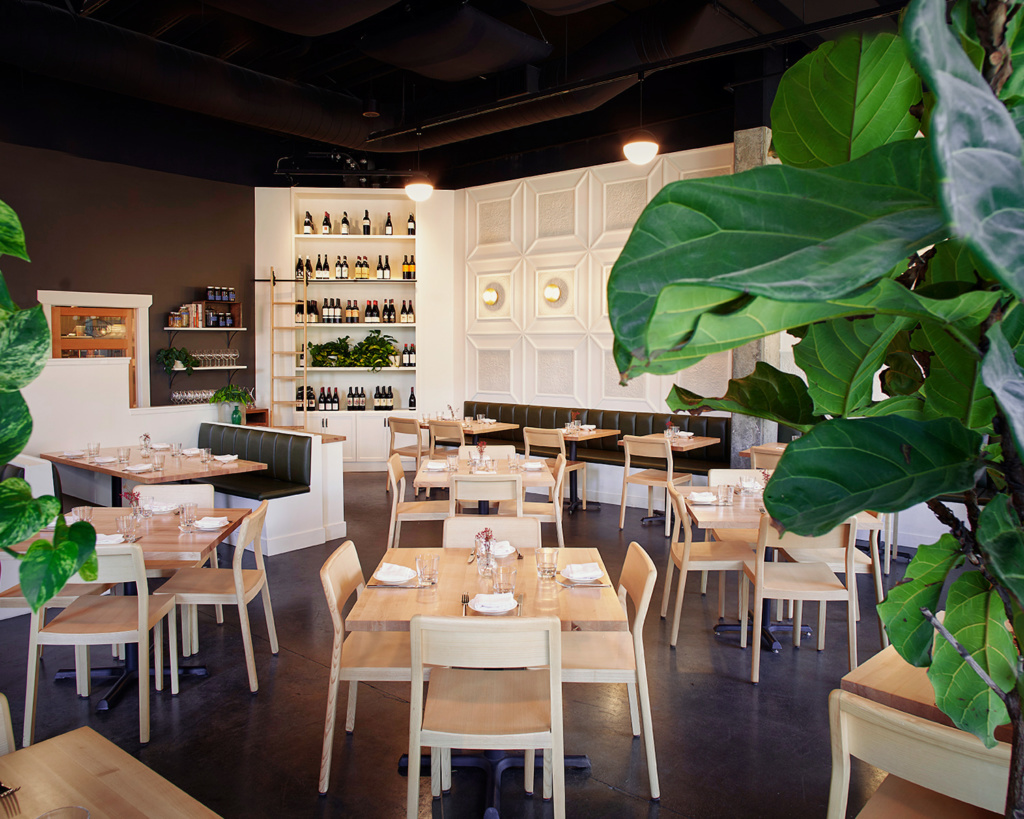 Here are the beers to be featured with notes from each producer.
Icicle Brewing 1 in 8 — Leavenworth
Did you know that one in eight women will get breast cancer in their lifetime? CLS Farms, Icicle Brewing, and Payette Brewing have come together to brew the One in Eight Fresh Hop IPA to honor the women who battle breast cancer.
Last year at harvest we are all reflecting on the 2017 harvest and how crazy that actually was for our farm family. Shelley was battling breast cancer for the second time and her and Eric were driving to Seattle daily for treatments. There was a lot of emotions that had to be stuffed down so that the show could go on. We all did just that and got through it but when the 2018 harvest came around and we looked back, there was a strong desire to honor that struggle that Shelley and her family went through. We thought of a way to incorporate what we love (hops!!) into a fundraiser that could give back to a local charity called Wellness House in Yakima. Last year, we partnered with Cloudburst and came up with the name One In Eight. That is the staggering facts behind breast cancer. One in eight women will be diagnosed with breast cancer in their lifetime. And we chose the Wellness House because they are a charity focused on helping women though this battle physically, emotionally and financially.  
Attached is the informational sheet about the 1 in 8 Fresh Hop Ipa. Below is a little more about this years fundraiser at Icicle Brewing Company along with some background about how this beer was started last year by CLS Farms. I am a 4 year breast cancer survivor (luckily I caught it early and it was treatable with Chemo, radiation and surgery) and Shelley (who owns CLS Farms with Eric who is my husband's cousin) is also a survivor. We appreciate you thinking of us and Jesse can get you more sales sheets for any of our other distributed beers if needed.
Single Hill — Ecstasy of Green Fresh XPA — Yakima
In Single Hill fashion, we bring you a true fresh shop that is surprisingly stone fruity with epic dank aromas. Green Fresh Fruity Grass! 
A cowboy epic to the fine hop ranches of the Yakima Valley. Exceptional Centennial and Cascade from Van Horn Farms, more delicious Centennial from Morrier Ranches and topped with Simcoe from Perrault Farms. Classic, fresh, green. 100% 2019 Crop.
Old Schoolhouse — Fresh Hop IPA — Winthrop
Fresh (wet) hop beer brewed within hours of being picked in the Yakima Valley. Pacific Northwest Style Fresh Hop IPA made with glutinous amounts of fresh (wet) hops including Simcoe, Citra, and Amarillo. Very full and complex spectrum of hop aromas and flavors including; citrusy, piney, and herbal. Good strong bitterness and balanced with a Carmel malt finish. We used nearly 500 lbs of fresh dank goodness per 15 BBL batch. Something extra in the aroma and flavor that can only come from fresh hops. A mystery of flavor and mouth feel that is hard to describe – a one of a kind experience. A must for true hop heads.
Bale Breaker / Cloudburst — Citra Slicker Wet Hop IPA — Yakima
Each hop harvest, the big city brewers from Cloudburst Brewing make the trek from downtown Seattle over the Cascades to team up with the farm brewers from Bale Breaker to brew Citra® Slicker Wet Hop IPA, a fresh hop beer that was first brewed in 2014 with then-owner of Elysian Brewing, Dick Cantwell. While it takes the Cloudburst team over two hours to get to Bale Breaker, the hundreds of pounds of wet Citra® hops picked fresh from the fields travel just four minutes from farm to kettle. Heavily dry-hopped, while light in color and body, this beer is all about these fresh, farm-grown hops! Mosaic, Citra, Loral, Citra