Three appliances now in the palm of your hand.
Hestan Smart Cooking, which has pioneered precision temperature control on the stovetop, has expanded its product line to offer the world's Smartest Cooking Probe. The Hestan Cue Smart Probe is Hestan's first departure from its highly sought-after temperature sensing cookware but still falls in line with the company's goal of helping home cooks achieve restaurant-quality results. Similar to the Cue Smart Cookware, the Hestan Cue Smart Probe is connected via Bluetooth to the Smart Induction Cooktop and powered by the Hestan Cue App. For the first time, home chefs will be able to use their non-connected cookware along with the Probe and Smart Cooktop to achieve Hestan Cue's hallmark precision temperature control and guaranteed results.
The team at Hestan Smart Cooking wanted to offer its users an additional level of control outside of the guided recipe environment when it came to cooking techniques such as frying, candy making, sous-vide cooking, and slow cooking. In the past home, cooks would need clunky single-function appliances that are a hassle to store and leave users without the proper education for success, to achieve these techniques. The Hestan Cue Smart Probe all of these functions are accessible in a simple and sleek cooking probe that allows home cooks to master any of the aforementioned techniques and more. Along with the ability to set precise temperature through control mode in the Cue app, the Smart Probe will also include a new collection of aspirational video-guided recipes that guarantee high-quality restaurant-level results. Whether it is frying doughnuts, making the perfect caramel, or achieving the perfect medium-rare steak with sous- vide cooking, the Hestan Cue Smart Probe will inspire home cooks the ability to both learn and venture out and create their own delicious dishes.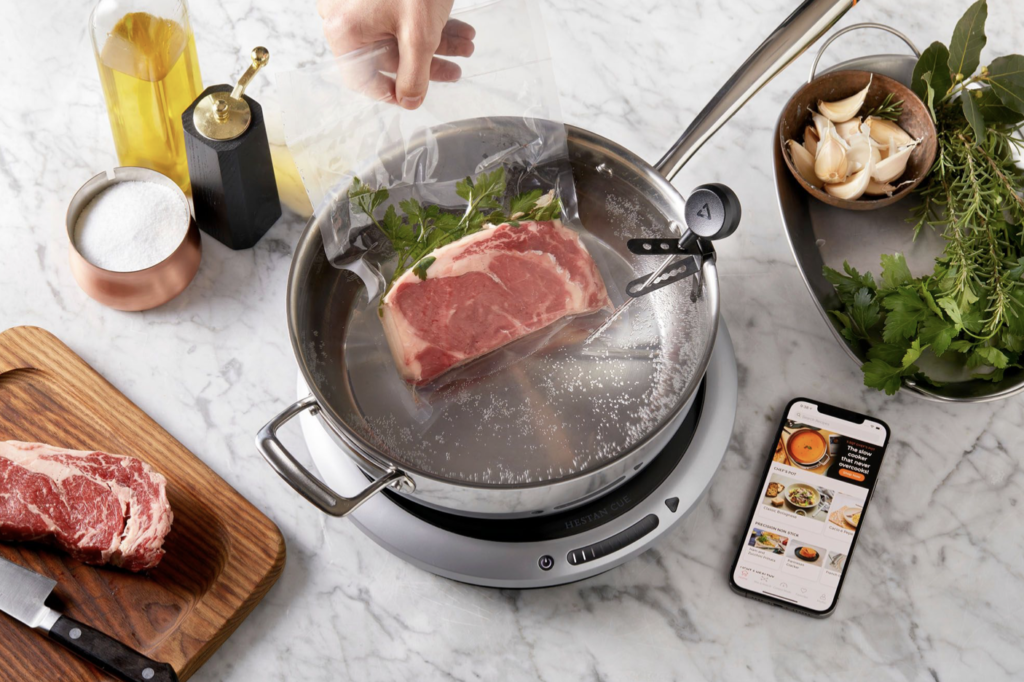 "The Smart Probe is all about utility and empowering our users to stretch their creativity in the kitchen. While we have been able to create some of its functionality through guided recipes with our smart cookware, the Smart Probe will give Cue users a point and shoot solution when it comes to cooking with large volumes of liquid (oil, melted sugar, water). The variety of applications that the probe unlocks will appeal to not only home cooks but to professionals as well. Similar products that are currently on the market are large and clunky and extremely expensive." says Owen Wyatt, the Culinary Director of Hestan Smart Cooking.
Together with the 11" stainless steel Smart Pan, the 3.5 quart Smart Sauce Pot and the 11" Precision Non-stick pan, 5.5 quart Smart Chef's Pot, the Smart Probe (retails for $99) not only diversifies the Cue product line but also reduces the barrier to entry to customers that are new to Hestan Cue. With over 500 chef-crafted recipes in the Cue app, each with step-by-video guidance Cue provides an entirely new way to explore recipes, from weeknight basics to perfectly replicated dishes from restaurants and chefs around the globe- all with guaranteed results.
With the launch of the Hestan Cue Smart Cooking System In 2017, a new category of smart cooking technology was invented. Cue is the world's first cooking system that monitors time and temperature, guiding users through each phase of the cooking process. High quality cookware embedded with temperature sensors works in unison with an induction cooktop and the Cue app to act as a coach in the kitchen. Cue builds confidence in the kitchen by equipping users of any skill level with the tools and techniques to achieve restaurant quality meals at home. 
About Hestan Smart Cooking
Founded in 2015, Hestan Smart Cooking is a team of acclaimed chefs from Michelin-starred restaurants, pioneering software developers, and meticulous designers dedicated to tirelessly reinventing the cooking experience. In 2017, the company introduced the Hestan Cue Smart Cooking System comprising a Bluetooth-enabled smart pan, induction burner, and recipe app. Through its hardware and software technology, Hestan Cue guides users through each step with its video-guided recipe app. To learn more, please visit hestancue.com.