The one-of-a-kind opportunity provides guests on-field access and a chance to dine with Award Winning Chefs directly where Seattle's Seahawks and Sounders compete!
SEATTLE—May 25, 2021— SE Productions and Lumen Field have joined forces once again to bring back the first ever dining series on a professional sports field. The dinners launch on June 2nd and continue through June 18th, highlighting 14 top chefs in the Pacific Northwest.
In its successful sold-out winter debut, Field to Table served over 5,000 guests, with more than 23 of Seattle's best chefs creating one of a kind four-course meals – all served under a heated tent right on the field.
This time around, there's an all new lineup including fan favorites such as Mel Miranda of Musang, Mitch Mayers of Sawyer, and Kristi Brown of Communion – who was recently named one of the top 12 best new restaurants in the world by Condé Nast Traveler.
Chefs will create a prix-fixe four-course meal with a choice of a meat, seafood, or vegetarian option as a main. Alcoholic and non-alcoholic beverages will be available for purchase through contactless, cashless ordering on-site. Guests can view menus and make reservations by visiting www.fieldtotable.us, dinners are priced per person at $119 + tax and service charge.
The elite group of chefs will bring exciting new menu items including Sumac Lamb Chop Lollipops, Israeli CousCous, Pickled Ramp, Grilled Asparagus, English Pea, Mint, Salsa Verde, Preserved Lemon Labneh from Sabrina Brzusek of Swine Dining; Dry aged Beef tenderloin – Caramelized sunchoke puree, burnt Walla Walla sweet onion, achiote + spring onion chimichurri from David Nichols of Eight Row; and Pan Seared Alaskan Halibut, Asparagus velouté, maitake mushroom, vanilla bean gastrique, bacon cream from Shawn Applin at 84 Yesler.
Wednesday 6/2 – Quinton Stewart of Ben Paris
Friday, 6/4 – Sabrina Brzusek of Swine Dining
Saturday, 6/5 – John Sundstrom of Lark
Sunday, 6/6 – Mitch Mayers of Sawyer
Monday, 6/7 – Mel Miranda of Musang
Tuesday, 6/8 – Kristi Brown of Communion
Wednesday, 6/9 – David Nichols of Eight Row
Friday, 6/11 – Sabrina Tinsley of Osteria La Spiga
Saturday, 6/12 – Trey Lamont of Jerk Shack
Sunday, 6/13 – Dre Neeley of Gravy on Vashon
Tuesday, 6/15 – Shawn Applin of 84 Yesler
Wednesday, 6/16 – Matt Lewis of Where Ya At Matt
Thursday, 6/17 – Mutsuko Soma of Kamonegi
Friday, 6/18 – Maximilian Petty of Eden Hill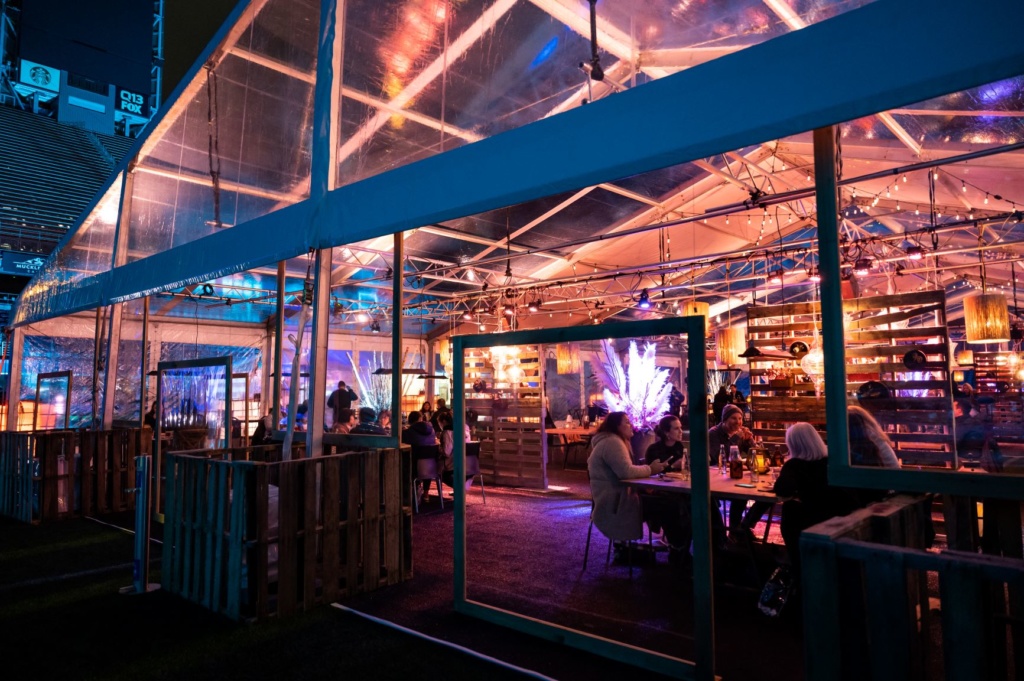 SE Productions also has additional guest experiences in store, including an interactive photo booth with complimentary digital and physical prints, and the opportunity to attempt a real NFL field goal! A $50 donation gets guests 3 attempts to score, with all proceeds benefiting Big Table. Big Table is the only non-profit in the country focused on providing both triage crisis care and ongoing coaching and support for restaurant and hospitality workers in need.
"It was so amazing to see the incredible response from chefs and guests alike last February," said Sam Minkoff, Co-founder of SE Productions. "We're delighted to bring this experience to life again in a time when so many could use a great, safe night out and a positive experience to remember."