This post was created in partnership with Travel Mindset and Ski Canada
For those looking for the ultimate ski getaway, Big White Ski Resort located in Kelowna, BC offers a multitude of winter activities designed for all ski & snowboard levels as well as 20 on-mountain restaurants, cafes, delis, pubs and nightclubs to keep you entertained for days if not weeks!
Travelers have two main options to get up there.
By Car. From Seattle, it will take you roughly 7 hours, north towards Vancouver, BC, then cut East until you hit Kelowna. It's an extremely scenic drive, but will take half a day to get there. If you plan on making various stops and want more flexibility, then Car is the way to go.
By Plane. There are multiple nonstop Alaska Airlines flights a day between Seattle and Kelowna, and they're only about an hour and 10 minutes long. Big White is less than an hour away from the Kelowna International Airport (YLW) meaning you'll be on the slopes in no time. If you're short on time and want to maximize your hours, then I'd recommend plane every time.
For our first time, we decided the Plane option to YLW, because we all know how difficult a long car ride with a 2 year old can be. Since Kelowna is a small town, the airport was a breeze to get through. Upon arrival, we rented an SUV and opted-in for the snow tires (we recommend it) as you'll be driving up to the mountains and roads can get pretty snowy.
Upon arrival, we checked into the Chateau Big White, which is situated in the heart of the resort with beautiful views of the village and walking distance to all the great restaurants. The hotel features an outdoor hot tub, the Black Diamond Bar & Grill and free underground parking. Each unit is beautifully decorated with standard features including; a gas fireplace, microwave, mini-fridge and in-room safes. You can choose from Kitchenette, Loft, One Bedroom, One Bedroom Plus and Two Bedroom Plus suites. (Plus is the addition of a den creating an extra sleeping area).
After we got settled in, we decided to walk across the street for some lunch at Globe Cafe & Tapas Bar. Very casual in atmosphere with skiers coming in with their boots on and ordering salads, pizzas, and homemade soup for a re-fuel and back on the slopes.
The Globe also features a full service bar with eclectic local and international wine list where you'll always find a few out of the ordinary gems, together with a great selection of locally crafted and European beers locally crafted and European beers as well as an extensive gin menu. And our award winning mixologists have created an inspired cocktail menu, more commonly found in your local big city bar.
If you're looking for some great Instagram content, the Globe has been recognized for its "Tabletop S'mores" dessert which is served just how it sounds, s'mores served on the tabletop. The marshmallows that accompany this dish are giant, pillowy, and satisfy all your needs.
Once everyone was fed, we took a short walk and down the ski lift to an area called the Big White Adventure Park! What makes this area so family-friendly are all the activities you can get involved with, the staff, and the safety measures that is placed.
Activities on the entire mountain include: Alpine Skiing & Snowboarding, Night Skiing, Nordic, Free Mountain Tours, Snowshoeing & Tours, Horse Drawn Sleigh Rides Dining Tours, Horse Drawn Sleigh Rides, Dog Sled Tours, Tubing, Ice Climbing Tower, Kids Snowmobiles, Snowmobile Tours, Feat Biking, Reindeer Roundup, and Trapped Escape Rooms.
An iconic thing to do while you're up at Big White is the Ice climbing tower! The wall is an impressive 60 foot ice tower located in Happy Valley Adventure Park and is constructed out of 4 telephone poles with 3 foot thick ice, with beginner to advanced options. All ages are welcome to participate in this exciting activity to conquer to the top, making this a fun family experience. Climbing gear for your ice climbing adventure is included with your ticket purchase.
For this experience, guests rent a pair of ice axes and ice cleats that will help you grip into the ice as you climb up and ring the bell. This is definitely a bucket list item if you are making a trip to Kelowna.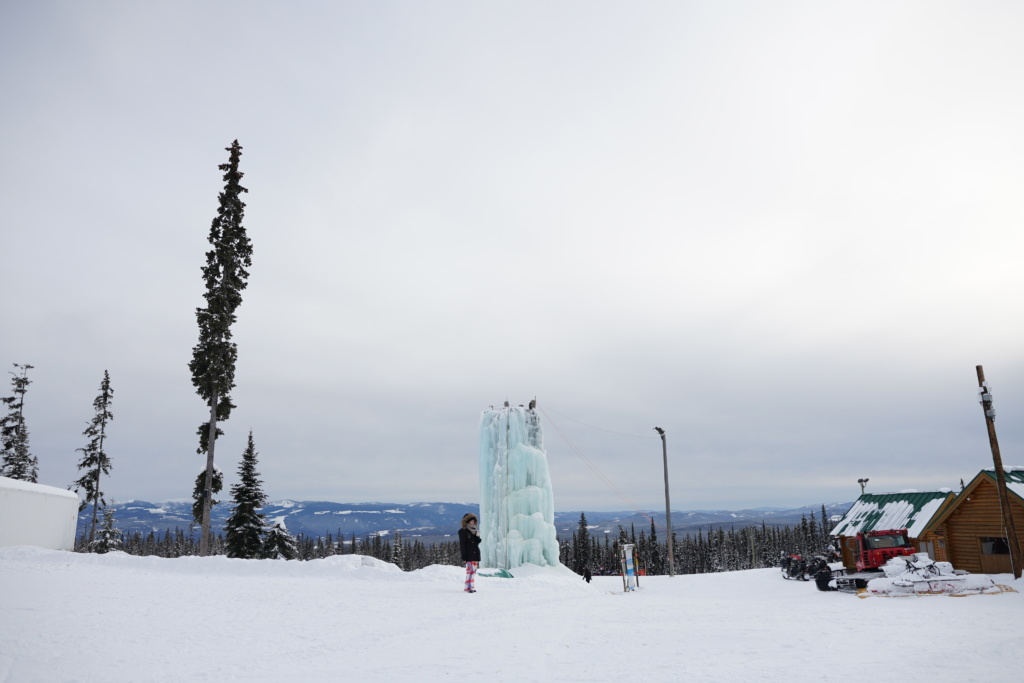 If you have kids, a fun option is to hit the Tube Park at Adventure Park! What's great is there are 5 specifically groom lanes and the option to go single or double. Since our little one is still tiny, all three of us went on a double. For people looking for even a more adrenaline, there are two larger, steeper slopes located west of these slopes. You can seriously feel the win in your face as you zoom down the hill. The new tube lift capacity accommodates up to 50 tube riders per hour to maximize your fun! To access them, you just ride up the snow pulley and turn right vs left.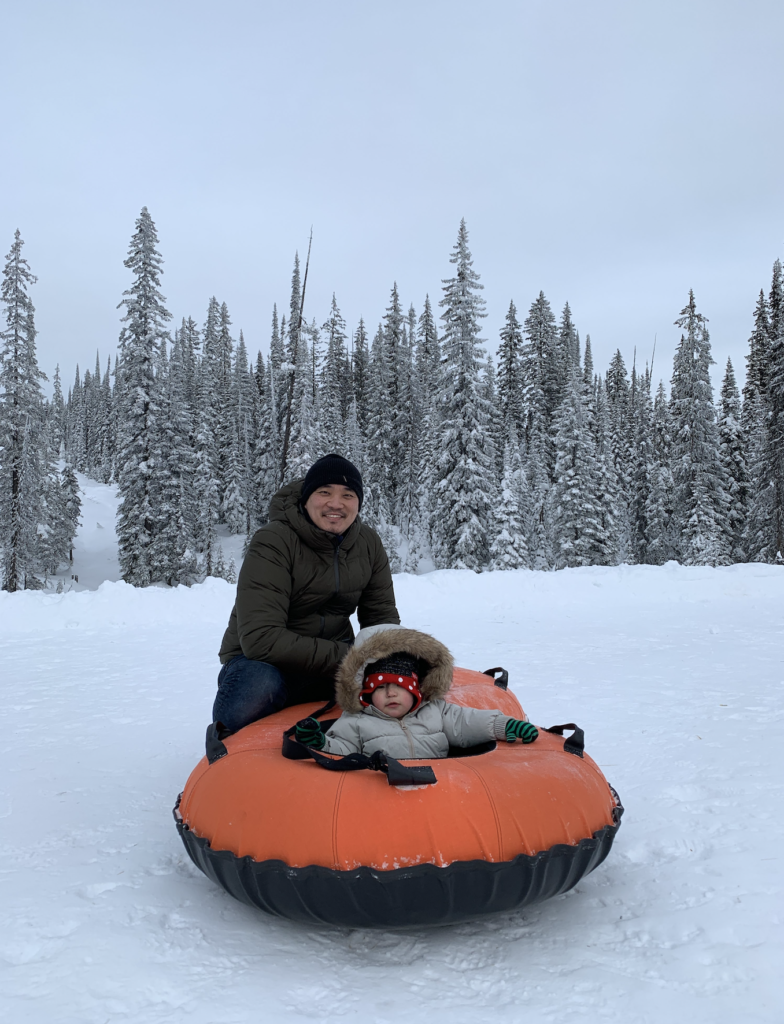 Did you know: Big White is the second largest Family Ski Resort in British Columbia with one of Canada's largest, modern lift systems. The mountain's amazing 2,765 acres of skiable terrain offers impeccably groomed runs suitable for downhill skiers of all abilities. With over 7.5 meters (24.5 feet) of champagne powder annually, it's easy to see why "it's the snow" is our motto!
We had the opportunity to hit the morning powder cruise down. What we really love about Big White is the versatility for all abilities and the amount of lifts throughout the mountain.
Along with great skiing and activities, Big White is a hotbed of great restaurants, 20 in total.
Here is a list of restaurants to try while you're there:
Beavertails
Black Diamond Bar & Grill
Black Forest Day Lodge
Clocktower Coffee Co.
Globe Cafe & Tapas Bar
Gunbarrel Grill
Underground Pizza
The Caf at Happy Valley
Kettle Valley Steakhouse & Wine Bar
Moonlight Bistro
Moose Lounge
Ridge Rocket Cafe
Sk8ers Bistro
6* Bistro
Sessions Taphouse
Snowshoe Sam's
The Blarney Stone Irish Tavern
The Bullwheel Gastro Family Pub
The Market
The Woods
If you're looking to splurge a little and have an amazing dinner, I'd recommend checking out #9, Kettle Valley Steakhouse & Wine Bar. Nestled on the top floor of the Happy Valley Day Lodge, the Kettle Valley Steakhouse is an upscale oasis of fine hospitality, great steaks, and an extensive Okanagan wine list.
Reservations for small or large groups are always recommended. Families encouraged, kids welcome.
Canadian Angus Prime Rib
Ocean Wise Seafood Tower
Snake River Farms Wagyu Flat Iron
Reserve Angus Filet Mignon
Tableside 55oz Tomahawk Chop
16oz Double Bone Berkshire Pork Chop
Beretta Farms Beef Ribeye
Duck 'Lasagna'
Cure Boards
Applewood Spiced Butcher's Steak
Fresh Shucked B.C Oysters
B.C. Albacore Tuna Carpaccio Nicoise Style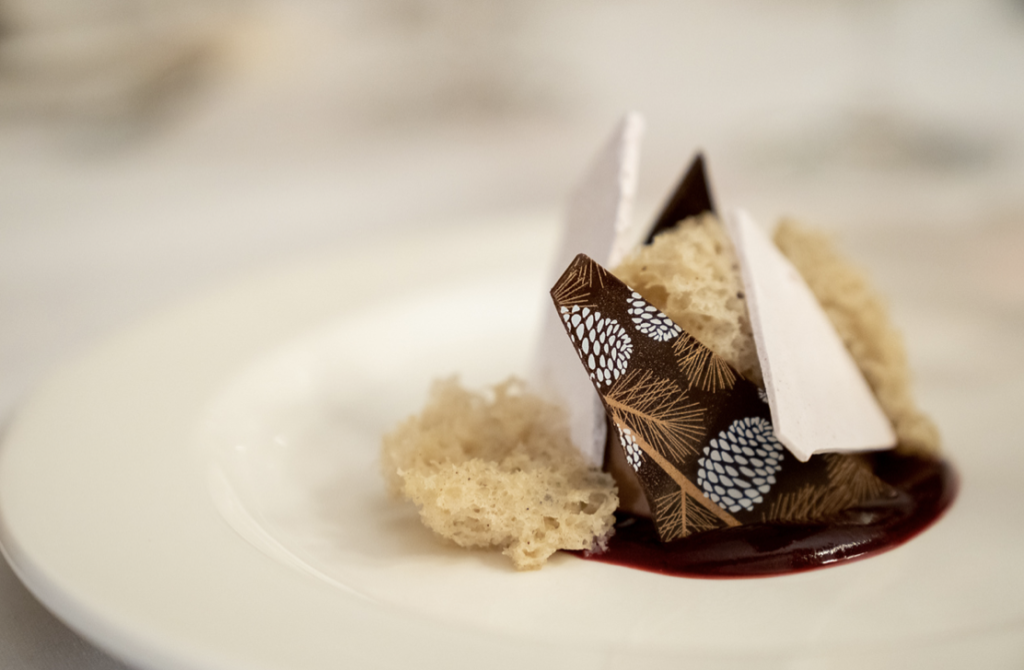 If this looks like something up your alley, you can start planning your trip here and book your accommodations, activities, and more.