Guest writer: Audrey Wootton-Franusich 
Whether you're craving fried food, a quick bite, or even a flight of beer with your friends, this list has you covered!

(IG)
Capitol Cider
818 E Pike St, Seattle, WA 98122
This is one of the rare spots in Seattle with a 100% gluten free/peanut free kitchen – this place is a must visit on your list! I'm especially fond of their dinner menu as it provides an extensive lists of meals that you can't normally find while eating gluten free! Despite the dietary restrictions, all of their food is flavorful and filling. Great for a casual lunch or a night out!
My Picks: Calamari, Cheese Curds, Baguette with Butter 
Pho Bac
1240 S Jackson St, Seattle, WA, 98144
Pho Bac, the sister to Pho Bac Súp Shop, is the first ever Pho chain in Seattle! With a short but delicious menu, this spot will steal your heart as almost everything is gluten-free! Expect a wait around lunch as this place is constantly overflowing with people. A great place for a huge bowl of pho and Vietnamese coffee on one of Seattle's many rainy days.
My Picks: Chicken Pho, Shrimp rolls, & Vietnamese coffee
Pablo y Pablo
1605 N 34th St, Seattle, WA 98103
Although this restaurant opened just over a year ago, it has proven itself in a short period of time. Pablo y Pablo offers a delectable menu – while not totally gluten free – has plenty of options. The staff is very knowledgeable about the ingredients in all of their food and can help you sort through the menu! A great twist on Mexican cuisine!
My Picks: Jalapeno Margarita, Tacos, & Vegan Nachos add Chicken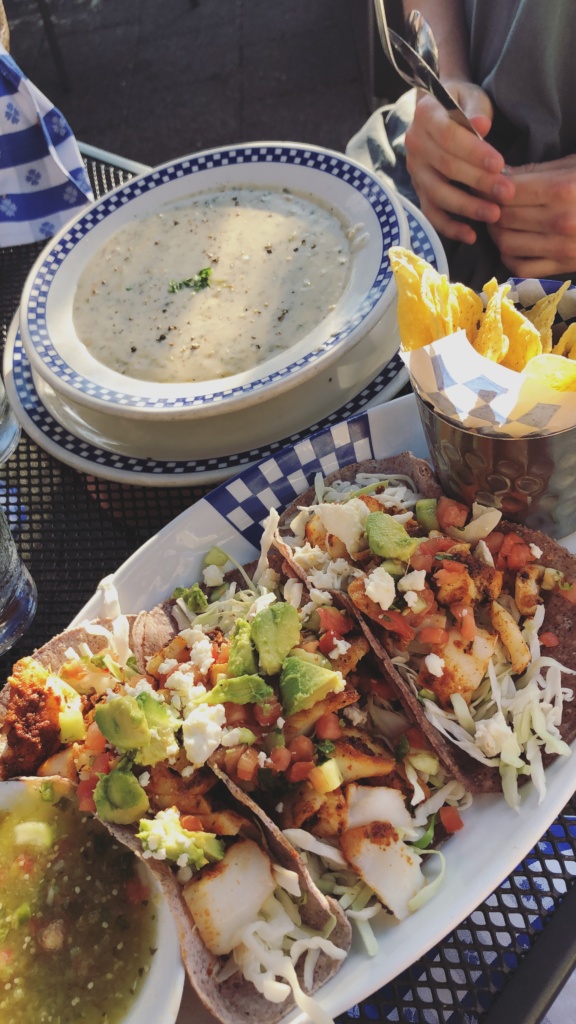 Duke's Chowder House
901 Fairview Ave N, Seattle, WA 98109
A Seattle classic that also caters to the gluten-free! With their award winning chowder, how could this not make the list? A good portion of their menu is either already gluten-free or can be made that way. Duke's is a great spot for any time of year, but with views of Lake Union, especially on a warm Seattle night.
My Picks: Classic Chowder & Shrimp Cocktail
Oddfellow's Café & Bar
1525 10th Ave, Seattle, WA 98122
With their beautiful décor, this restaurant is as picturesque as the food is delicious! As a celiac, the breakfast menu is preferred due to their gluten free biscuits! You can't go wrong with a good eggs benny for breakfast. They don't take reservations on weekends, so walk next door to Elliot Bay bookstore while you're waiting and visit "Little Oddfellow's" in the back!
My Picks: Iced Latte, Eggs benedict with GF biscuit extra Hollandaise & side of Bacon
(IG)
Ba Bar
500 Terry Ave N, Seattle, WA 98109
As any gluten-free eater knows, soy sauce is more of a foe than a friend, but almost everything on this menu is gluten free! Ba Bar has a fantastic selection and is open late every night. With multiple locations, it's a great stop when craving some Asian food. Between the imperial rolls and vermicelli bowls, I can't seem to stay away. They also have incredible macaroons to grab on your way out!
My Picks: Chicken Vermicelli bowl: sub rice & add egg – Imperial Roll
(IG)
Razzi's Pizzeria
1314 Howell St, Seattle, WA 98101
Razzi's is a safe haven for all with dietary needs! From gluten-free to vegan, they have you covered with different versions of their menu and even a certified gluten-free kitchen! While this isn't a traditional Pizzeria, everything on their menu is delicious and fresh. Perfect spot for lunch or dinner or even just a quick bite to eat!
My Picks: Margherita Pizza & Caesar salad!
Ghostfish Brewing Company
2942 1st Ave S, Seattle, WA 98134
Ghostfish Brewing is a blessing in disguise in a city full of breweries.
With a certified gluten free kitchen, and a plethora of gluten free beers
on tap, this is the perfect spot. Something for everyone and you don't
have to miss out on the beer tasting nights with your friends!
My Picks: Belgian White Ale & Mac and Cheese!
(IG)
Nuflours Bakery
518 15th Ave E, Seattle, WA 98112
Definitely more of a sweet stop for your sweet spot. As someone who is constantly searching for a good gluten-free pastry (better than what I can cook at home, which isn't hard considering I'm a terrible baker), finding Nuflours was a relief. With a large selection of pastries sure to satisfy your taste buds – this a great stop!
My Picks: Any version of their quiche!