The kushikatsu restaurant offers a taste of Osaka street food in Seattle March 2020
SEATTLE—February 25, 2020—Two-time James Beard Awards semi-finalist, Chef Shota Nakajima will open his second bar and restaurant, Taku, on Wednesday, March 11, 2020 on Capitol Hill. A casual spot for quick-serve cocktails and food, Taku will emulate the fun, fast paced street food scene of Osaka, Japan with a focus on Chef Shota's favorite dish kushikatsu—kushi meaning skewers and katsu meaning breaded and fried.
Taku, meaning table in Japanese, will feel like a lively Osaka alleyway reminiscent of the bustling food stalls in the Shinsekai district with music, lights, dark wood and Japanese inspired art. An intimate space, Taku will seat a total of 30 guests at a counter and communal table in this 21-and-over establishment. A take-out window will serve a similar menu and feature "rice on the hill" a favorite food of Chef Shota's that's currently missing from Capitol Hill's late-night food offerings.
"I'm so excited to bring Osaka street vibes to Seattle through Taku. My time living in Osaka are some of my best memories and I want everyone who comes to Taku to have a great time, drink, eat, meet new people and enjoy life for a bit," said Chef Shota.
Osaka's street food scene is vast, lively and full of flavor. Chef Shota is paying homage to his favorite food and drinks while putting his spin on kushikatsu with skewered, breaded and fried meats, seafood, veggies and cheese, utilizing both Japanese and Northwest ingredients and changing out select items seasonally.
Food: Guests will order at the counter on paper menus with items priced progressively from $2-4 for individual kushikatsu including shishito pepper, Japanese little smokie, lotus root, large shrimp, brie cheese, beef shortrib, veggies, mochi and more. For $15-33 there are multi-piece cups of kushikatsu including Chef Shota's favorite item the Fuckit Bucket – 10-15 skewered items served up family style for $33. Non-fried side dishes from $3-6 include rice, cabbage salad, kimchi tofu, macaroni salad, miso soup and more.
Taku will feature a lineup of housemade dipping sauces to accompany the kushikatsu with one featuring beer from neighboring Redhook Brewlab. Desserts will also be present (and fried) with tempura Salt & Straw Ice Cream,katsu banana split with mochi ice cream, and katsu mochi tossed in butter and chocolate.
Once a week on "What's this Wednesdays" Taku will offer surprise new menu items available that day only. Menu highlights may also include a pizza katsu and a surprise lineup of Chef Shota's favorite grocery store items breaded and fried.
Beverage: Taku's bar is all about quick service with draft cocktails and boozy slushies, plus wine, sake and bottled Japanese beer. A Toki highball machine will deliver perfectly proportioned, fizzy drinks fast (Taku will be one of only three bars in Seattle with a highball machine). Taku's highballs are $7 each and include whiskey Coke, Suntory Toki whisky, Calpico, Taku tonic, plum wine and cranberry yuzu. Rachel's Ginger Beer (and neighbor to Taku) will also be served on the menu.
Design: Fun, eclectic Osaka street vibes fill the space at Taku with street signs, Japanese lanterns, manhole covers, anime posters, thousands of Japanese pop culture stickers, a giant Godzilla head, plus commissioned pieces from local artist Dozfy. The dark wood interior is punched up by a custom neon sign from the team at Electric Coffin and Shogo Ota of Tireman Studios was tapped to design the logo, neon signs and more. Adam Heimstadt of Unicorn Seattle is constructing a custom unicorn door, a fun addition to the alley side of Taku.
Taku will have a vending machine filled with merchandise including hats and t-shirts with a portion of every sale benefitting local non-profits that his team is passionate about. The non-profit will change monthly.
Hours will be Wednesday to Sunday 3:30 p.m. – 2 a.m. Find Taku at 706 East Pike Street, Seattle, WA 98122. takuseattle.com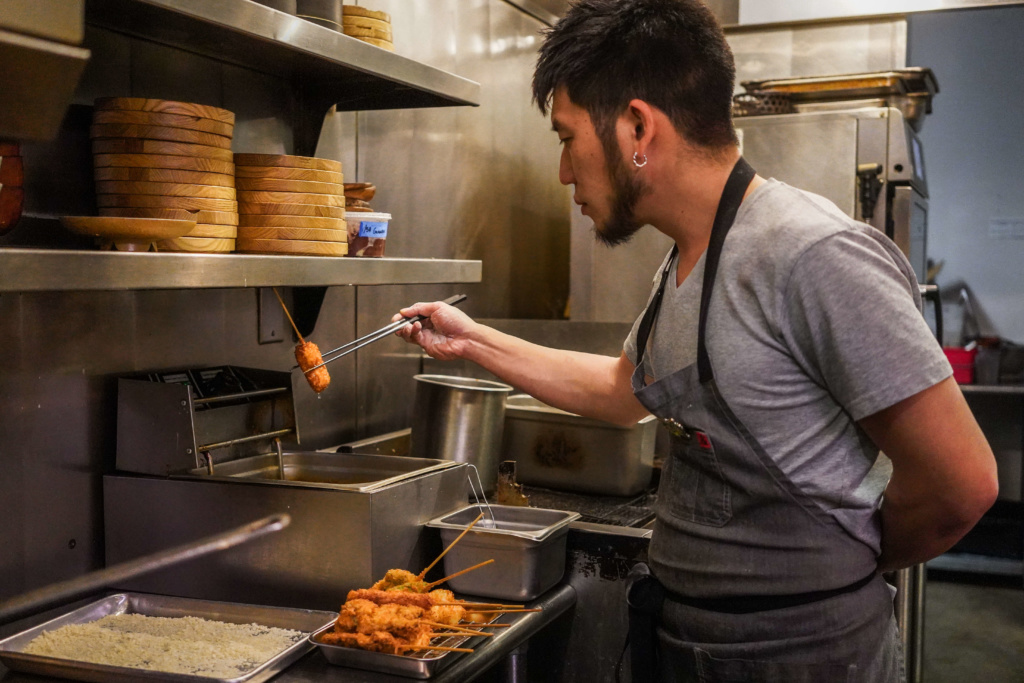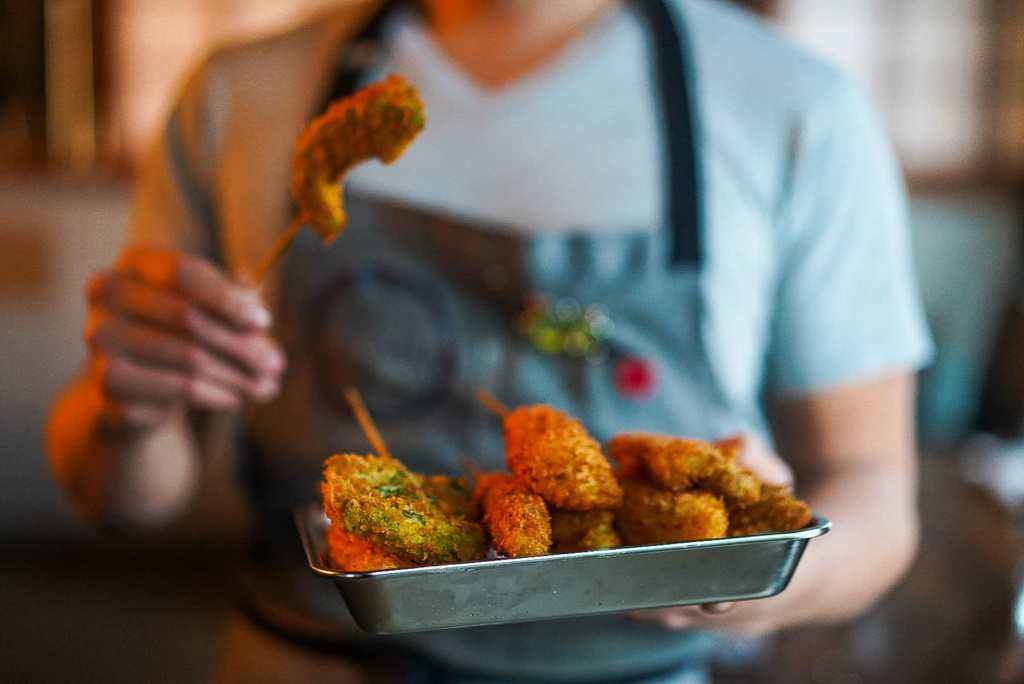 About Taku
Chef and owner Shota Nakajima brings the sights and flavors of Osaka, Japan to Capitol Hill with Taku. Inspired by the street food stalls in the Shinsekai district in Osaka, Taku will serve kushikatsu – kushi meaning skewers and katsu meaning breaded and fried to a 21-and-over crowd. The menu offers a variety of skewered and fried meats, seafood, veggies and cheese for $2-4 a piece plus cocktails on tap and bottled Japanese beer. The restaurant will offer about 30 seats with a counter and communal table, plus a pick-up window open late.
Photo credit to Stephanie Forrer.