As the dog days of summer continue it is easy to forget that Fall is right around the corner.  And what is the most glorious part of late September? The beginning of Oktoberfest!  If you're like me, and you love beer, pretending to be German, and visiting a small Bavarian town in the middle of the cascades; then you're ready for Leavenworth.
Leavenworth Oktoberfest is the northwest's answer to the Munich classic. There is polka music, chicken dancing, long picnic tables, and liters and liters of delicious beer. While the annual celebration of lederhosen is worth the trip, Leavenworth has a lot to offer any beer enthusiast year-round. There are three breweries downtown, all within walking distance, that are worth a stop.
Icicle Brewing – The big boy of town.  Located on Front Street, it is very difficult to miss it.  With plenty of indoor seating for the cold nights, and a nice patio in front for the warm days, it is easy to get lost in the charm of the brewery.  Child friendly and dog friendly (on the patio), Icicle is very welcoming and warming, which is a big quality for breweries.  Offering artisan plates and munchies, Icicle is also a great place to get a quick snack.  As for the beer?  The beer is good.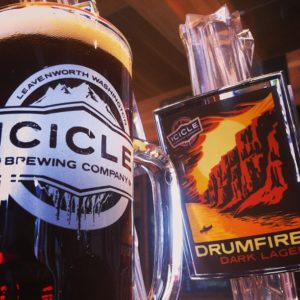 Colochuck Raspberry Wheat – Refreshing wheat with a hint of raspberry.  Wonderful for those hot days.
Bootjack IPA – Classic Northwest IPA with a floral flavor and just enough body to keep you warm on those cool nights.
Copper Ale – If you need a lot of body, nothing is better than a Wee Heavy.  Not always on tap, but when it is, a delicious beer with a big body with it.
Blewett Brewing – The new kid on the block.  And they're hanging tough with the big boys in the region.  Opening just a few months ago, Blewett offers tasty beers with fantastic Pizza.  I've always been a fan of Margherita pizzas and it's good at Blewett.  Wish it down with one of their classic ales.  Located on Commercial Street.
Tangerine Pale Ale – A seasonal beer that is on right now.  Hints of tangerine and creamsicle finish. A solid beer.
Crikside IPA – Another Northwest style IPA. A big citrus nose and grapefruit finish.
DogHaus Brewing – Potentially the smallest brewery in the state.  Their brewery sits about 5 and has room for maybe just a few more people standing.  During Oktoberfest it may be difficult to find a seat, but if you're one of the lucky few, I highly recommended it. They offer a few beers that pack a punch. And if you cannot find a seat, Der Hinterhok is right next door with plenty of seating while you wait.
3 Dog Night – Barrell aged dark IPA, sitting at 10% abv, it's best to have one and enjoy is slowely.
Alpha Dog – A bold amber/red that is refreshing but has just the slightest hint of chocolate malt.
When it comes down to it, just head over Stevens pass and get lost in the charming town that is Leavenworth.  No one is ever disappointed when they visit this beautiful Bavarian town.