By now most of you are probably getting the feeling that I am Irish, of Irish descent, like green, like beer, may have a belly, enjoy Riverdance, Michael Flatley, and Notre Dame football.  If you guessed any or all of those traits, you are correct (sorry no prize give aways at this time…)!  Tis true that I grew up in a traditional Irish-American Catholic family that was probably closer to the Rudy story line than Angela's Ashes (and certainly more than My Left Foot and Waking Ned Devine!).
I loved being Catholic, I really did. No, I didn't enjoy going to Mass every Sunday as a kid, but my folks taught me that not only was there a God but he was up there and forgiveness was yours through grace and sometimes if you listened to the Parish Priest and local Convent of nuns.  I would say that we were "fairly" strict Catholics in that we NEVER missed church, my sister and I were involved in drama, choir, athletics, spelling bees and the sort in our Catholic school, and were definitely taught to be reverent. Kneel. Sit. Stand. Repeat.
One thing I don't remember all that well is the whole "don't eat fish on Friday" thing. Certainly, during Lent, we gave up something. I usually picked something very serious like "being nice to my sister" or…ok…I don't remember being that strict but I do remember my mom trying her best, probably more to please my Dad's ultra-Catholic ways, than her own chastity, to serve fish on Fridays, at least during Lent.  As I got older, and although I started going to more of a Protestant-type church, the reverence for ancient religion, the tradition, the respect, and the connection to it, always seemed to stay with me. While others around me were doing their best to "bash" and otherwise undermine the Catholic church, I was a fervent, non-practicing defender.  You see, one of the most important things I took away from that upbringing, in addition to basic Faith in God, was tradition.  I love it, I think it is important, and I think we Americans do a $%*&#* job of remembering to honor certain traditions, religious, secular, and everything in between.
One such tradition that was NOT a part of my upbringing that was introduced to our family through my sister, was challah.  My sister is a part of a fabulous organization called Gateways Beyond, and you probably remember that my oldest son and I were recently visiting her along with my mom on the ancient island of Cyprus.  The group that she has been both a student and a leader is Christian, but observes all of the Jewish (Old Testament) traditions, holidays, and customs. Without going into great detail, they have chosen to bring the Old Testament into their "New" Testament beliefs, unlike so many of the Western Christian expressions.  One of the coolest, and most meaningful traditions I have been fortunate to be a part of is Shabbat.
Shabbat, in this Irish Catholic's translation, is essentially the pre-Sabbath dinner. Since the Sabbath is on Saturdays in the Jewish faith, and since they observe the Sabbath as close to the way Moses brought it down from the mountain, the Shabbat is designed to "party with your family," pray for them, honor them, include friends, and of course…have one last round with yeast before the fast.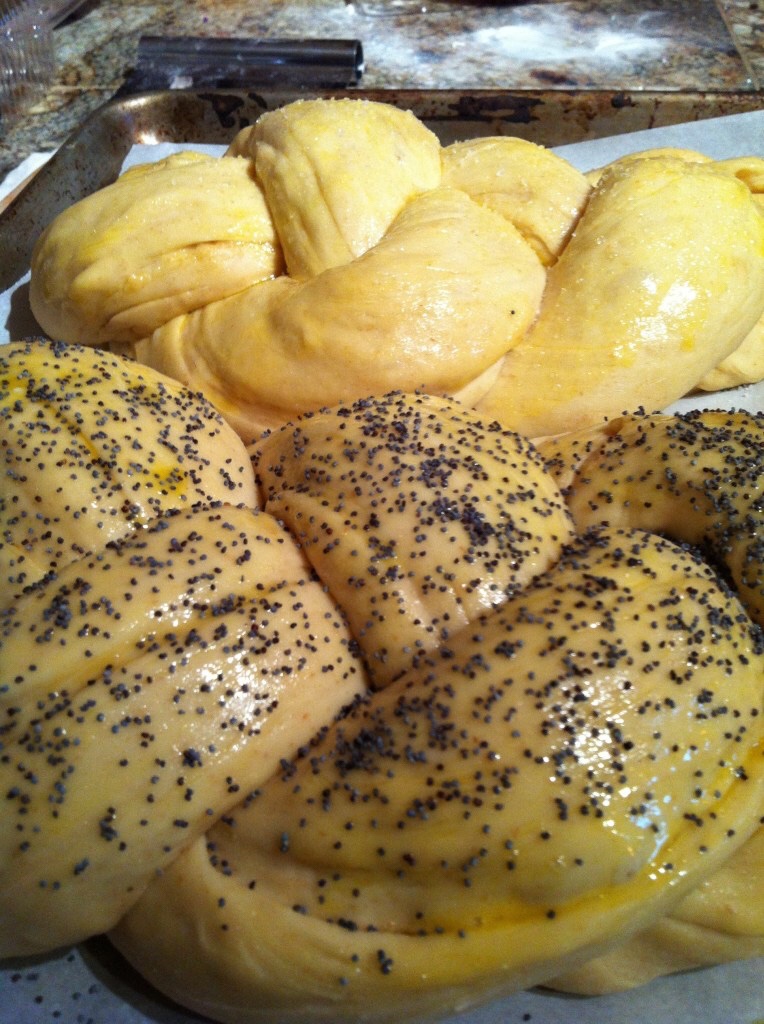 Challah is the bread that is served at EVERY Shabbat throughout the Jewish community. It is that twisty, braided bread you may have seen in the grocery store, or maybe better at a local bakery near a Jewish neighborhood.  Sometimes served plain, other times with poppy or sesame seeds, this beautiful, eggy bread is both appetizer, main course, and dessert. The rich, feathery, strands of baked dough, after pulling it off the braid, is both fun to eat, and probably the most delicious, "regular" bread around.  Since I am not Jewish, I won't go into all the deets, but during Shabbat, the dad/husband takes the lead in prayers, turns it over to mom/daughters, whose heads are covered and prayers are said, songs are song, and the feast is on!
I am including Challah in the 101 Recipes Every Good Boy Should Know schtick because, well, frankly, I think it is important. I am not saying you have to do all the prayers or even celebrate Shabbat the way the Jews do, but I will say this, you will not only love the bread that night, have a cool story to tell, but also, if there is any left, the absolute BEST FRENCH TOAST EVER!
Shabbat Shalom!
Print
Challah
Ingredients
1 1/2 cups warm water
1 tbsp active yeast
6 1/2-7 cups bread flour, divided
3 eggs
1/3 cup sugar or honey
1/3 cup canola oil
2 tbsp kosher salt
For Egg Wash
1 egg, beaten
Instructions
1 Place yeast in water, with a pinch of sugar or honey and whisk until yeast dissolves. Let sit about 10 minutes until it foams. Pour into mixing bowl and whisk in 2 cups of the flour. Let sit for about 30 minutes.
2 Whisk rest of the ingredients and 1 cup flour, one at a time until all incorporated. Mix with dough hook until dough is smooth, velvety and lightly tacky.
3 Place into oiled bowl and let proof for at least 1 hour (covered in plastic wrap in warm, draft free area).
4 Cut dough into halves and then each halve into 3 pieces. Roll dough into ropes, approximately 10-12 inches long. Take three and braid, twisting top and bottom and tucking underneath.
5 Place on baking pan, and over with oiled plastic wrap. Let proof for another 45 minutes.
6 Brush braided loaves with egg wash until every nook and cranny has been covered.
7 Sprinkle with choice of sesame seeds, sea salt, poppy seeds, or leave alone and cover with butter and honey when out of oven.
8 Bake at 350 degrees for 40-50 minutes, or until golden brown and bottom is hollow.
9 If covering with butter and honey, best trick is to peel back part of a stick of butter and trace over warm bread with the butter until covered. Then slowly drizzle honey over the top of that too.
10 Let cool enough to handle and enjoy. It is meant to be pulled apart violently!