Over the weekend, November 8th-9th, America's Test Kitchen hosted two food events. Friday was the 20th Anniversary Celebration of America's Test Kitchen TV Show. The show's hosts and cast were in attendance, well known chefs served up amazing food and Seattle's most innovative bartenders mixed up signatures cocktails. The event also featured ATK's 20th Anniversary cookbook which includes 580 all-time best recipes from the show's 20 seasons. 
Doors opened up at 6:30pm with long lines of guests anxiously waiting to enter the venue at Block 41.  As guests entered, they quickly found themselves indulging in delicious samples from some of Seattle's finest culinary talent. Guests mingled with other guests and had opportunities to meet their favorite cast members of the show.  Chef Shota Nakajima of Adana, served up Whipped Asian Pear with Caviar, "plating" it on each guest's hand. Heartwood Provisions, Chef Kimberly Cosway, offered a delicious Waygu Tartare paired with a tequila cocktail by Amanda Reed.  Sawyer's Chef Mitch Meyers featured Pork Belly Steamed Buns that melted in your mouth.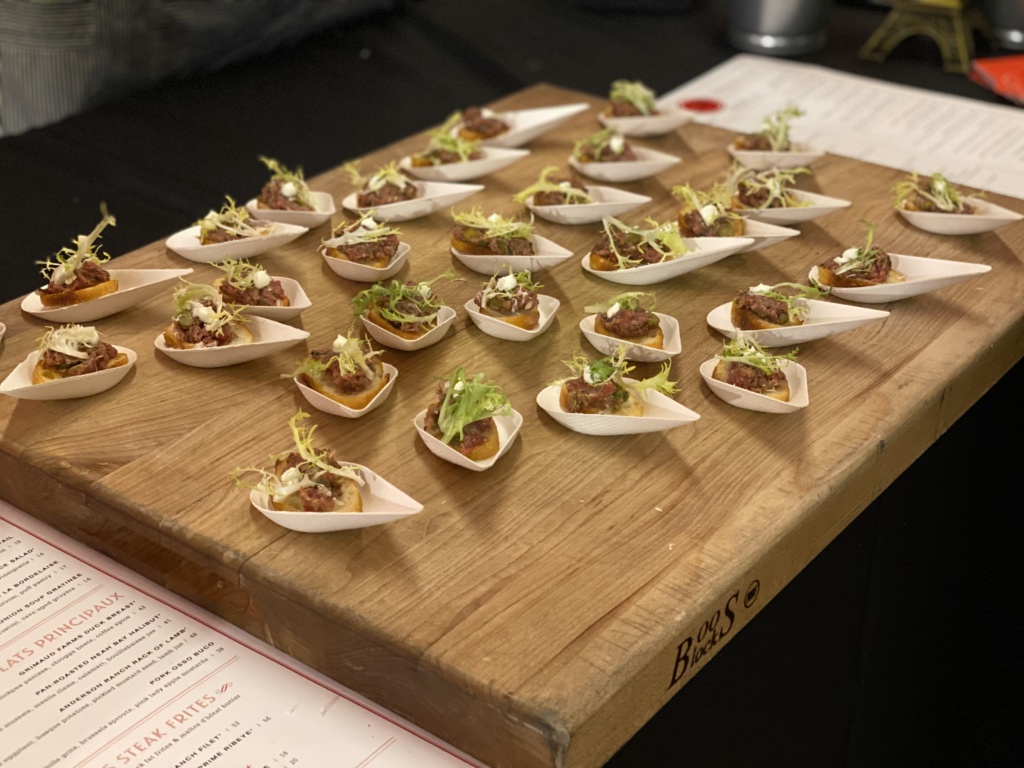 Some crowd favorites of the night came from Mamnoon's Chef Carrie Mashaney. She served a tasty Batteresh, featuring a savory lamb ragu on top of a smokey eggplant dip, served with Mamnoon's house pita. Chef Stuart Lane of Spinasse prepared a delicate Fonduta Cappelletti with tomato butter and fried basil. ATK's Chef Jack Bishop featured a Korean Bulgogi Lettuce Wrap that had guests coming back for more.     
Bulleit, featuring their bourbon and rye liquors, offered choice cocktails of Whiskey Bourbon Lemonade or Old Fashioned Rye. Duckhorn Winery offered pours of their Canvasback 2016 Cabernet Sauvignon, while Vision Wines & Spirits poured a variety of their wine offerings to guest.
Guests were able to sample yummy bites, debate with other guests which bites were their favorites and then go back for more.  Attendees asked the chefs questions and hopefully were able to learn something new. It was an amazing event filled with memorable bites and sips from Seattle's top chefs and bartenders. 
About America's Test Kitchen
America's Test Kitchen is a half hour long cooking show. On the show, test cooks are filmed in real, working test kitchens. They prepare recipes, while discussing what works, what doesn't and why. Equipment is also tested so viewers understand what to look for when they buy gear and ingredients. 
America's Test Kitchen also provides a variety of cookbooks, podcasts, and websites, associated with each of their magazines/shows.  They offer kids cookbooks and online cooking classes for all ages and skill.