Chef Brendan McGill and team have kicked-off a summer Pop-Ups on the Patio Series taking place at the end of picturesque Winslow Way on Bainbridge Island.
With three storefronts side-by-side, Hitchcock, Hitchcock Deli, and Bar Hitchcock (currently operating as Hitchcock Deli & Market), the pop-ups take place in front of the Hitchcock Deli space and features a custom Vesta Grill designed by McGill. There is limited patio seating and the pop-up offerings are also perfect for picnicking in the park or taking home to enjoy.
"We're pivoting hard to take advantage of this gorgeous summer weather and flex our creative muscles on this sweet new grill," said Brendan McGill, chef and owner of Hitchcock Restaurant Group. "I'm blown away by the collective talent of our team and the continuing support of our community. People keep showing up, so we'll keep spinning off these fun pop-up concepts."
Here's the current line-up: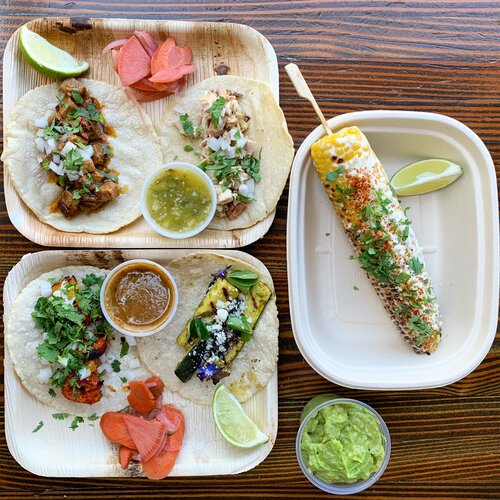 Tuesday: Taco Tuesday with Ana (3pm to 7pm)
Enjoy a rotating selection of street tacos (carne asada, al pastor, smoked chicken, rockfish, and grilled squash and mushroom) made with hand pressed tortillas and housemade salsas, as well as guacamole and chips and street corn. Plus, ice cold beers and margaritas.
Friday: Oyster Saloon (1pm to 7pm)
Enjoy Hood Canal's Baywater Shellfish oysters (harvested in the morning) on the half shell and/or with herbed salsa and breadcrumbs and grilled over applewood. Large bowls of steamed clams and crispy grilled garlic-herb focaccia are also available, plus chilled white wine and cocktails to go.
Saturday: Three Stacks BBQ (1pm to 7pm)
Enjoy smoked chicken, beef brisket, chopped pork butt, spare ribs, and Basque-style chorizo sausage with flavors inspired by the barbecue found in the Carolinas, Memphis, and St. Louis. Offered by the piece, pound, or Three Stacks (one of everything is a box). Sides include potato salad, coleslaw, and macaroni salad.
The pop-ups are first come, first served, and have been known to sell out. For more information on the Pop-Ups on the Patio Series, visit https://www.hitchcockrestaurant.com/popups
Pivots that happened in the spring— Sacka-Burgers, Essential Wine Club (formerly known as the Pandemic Wine Club), and the Hitchcock CSA box program, along with the pay-it-forward option, are going strong.  To learn more, visit https://www.hitchcockrestaurant.com.
Chef Brendan McGill's Hitchcock Deli is nestled between his flagship restaurant, Hitchcock, and the more casual, Bar Hitchcock, on Bainbridge Island. The impetus for the deli came from McGill's evolving views on meat and produce after opening Hitchcock in 2010—he wanted to create a code of ethics for the group, which the deli strongly represent. Hitchcock Deli serve meats raised on pasture and produce from the closest source of the highest quality. They cure and smoke all of the charcuteries in-house and make all of the preserves and pickles too, the old-fashioned way. The deli offers sandwiches and salads as well as meat from a bountiful cold case. For more information, visit www.hitchcockdeli.com.
Hitchcock Deli is located at 129 Winslow Way East on Bainbridge Island in Washington.