A pandemic shift in how many now prefer to eat has sparked an entirely fresh dining experience at W Seattle. Its former fine-dining restaurant TRACE is making way for an artisanal, fast, local, and earth friendly food mecca called TRACE Market. The reimagined space will serve breakfast and lunch and feature market-driven dishes inspired by the regional bounty of the Pacific Northwest and using traceable ingredients.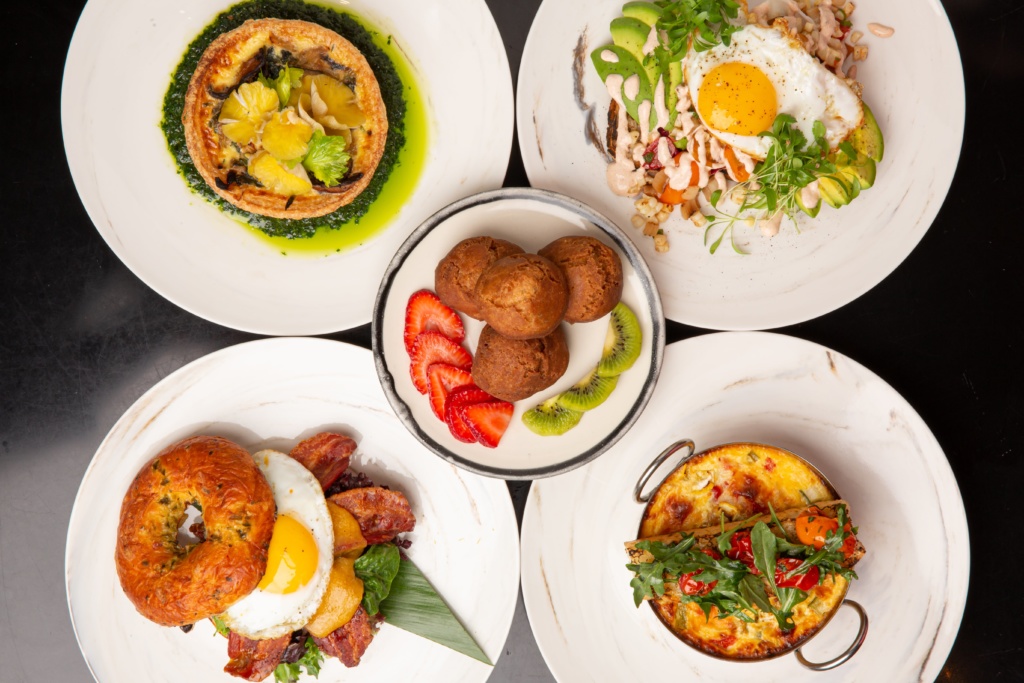 "We were inspired by TRACE's original mission of supporting local farms and purveyors, only now, we've evolved to apply it in a format relevant to today's guest needs," said Wade Hashimoto, General Manager, W Seattle. "People want a fresh, simplified yet still elevated dining option, and TRACE Market brings all of that."
Hashimoto, a longtime hospitality professional with Hawaii roots, is a relative Seattle newcomer who took the helm at W Seattle in late 2019. His instinct about a needed shift in the hotel's dining flagship restaurant, nudged him to rethink its format just as the hotel was gearing up for a record year ahead. Then the pandemic hit. During the lull, Hashimoto took a bold step by first approaching the Seattle team with his idea, collaborated on details, then took the TRACE Market concept to Marriott food and beverage executives for their support.
Tapping the talent of its enterprising, classically-trained Chef Ross Lewis, TRACE Market never misses a beat on local, seasonal fare. Passionate about choice and sustainable ingredients, in his spare time, Lewis owns and runs Rain City Microgreens, a hydroponic microgreens and culinary mushroom operation in Covington, Wash. He's also well-networked with notable area farms and restaurant contemporaries, keeping a close pulse on food trends.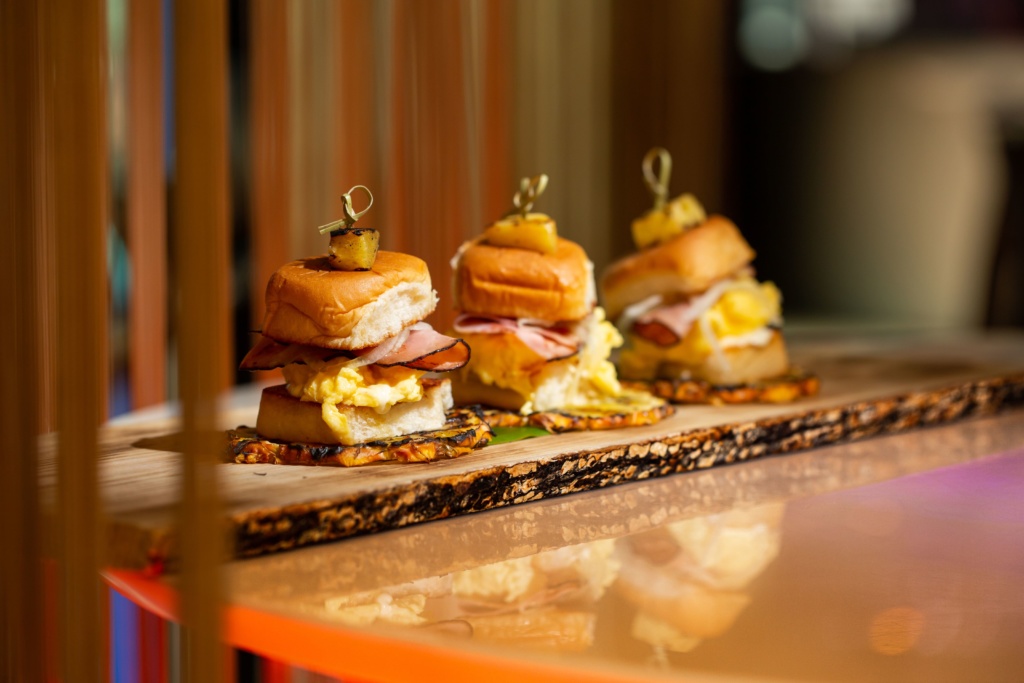 Signature items on the breakfast menu include Island Breakfast Sliders, three Hawaiian roll sliders with grilled ham, scrambled egg, sweet onion, and topped with grilled pineapple, the TRACE Market Quiche, an individual portion quiche featuring Covington Mushroom Co. mushrooms, spinach and goat cheese, as well as a Breakfast Casserole, an individual, all-in-one American breakfast casserole with potato, Italian sausage, egg, cheese and fresh herbs. The Blazing Bagel Sandwich showcases thick-cut maple bacon from Bellingham's Hempler Bacon, Tillamook cheese, an over-easy cage free egg and tomato aioli all on a jalapeño cheddar Blazing Bagel.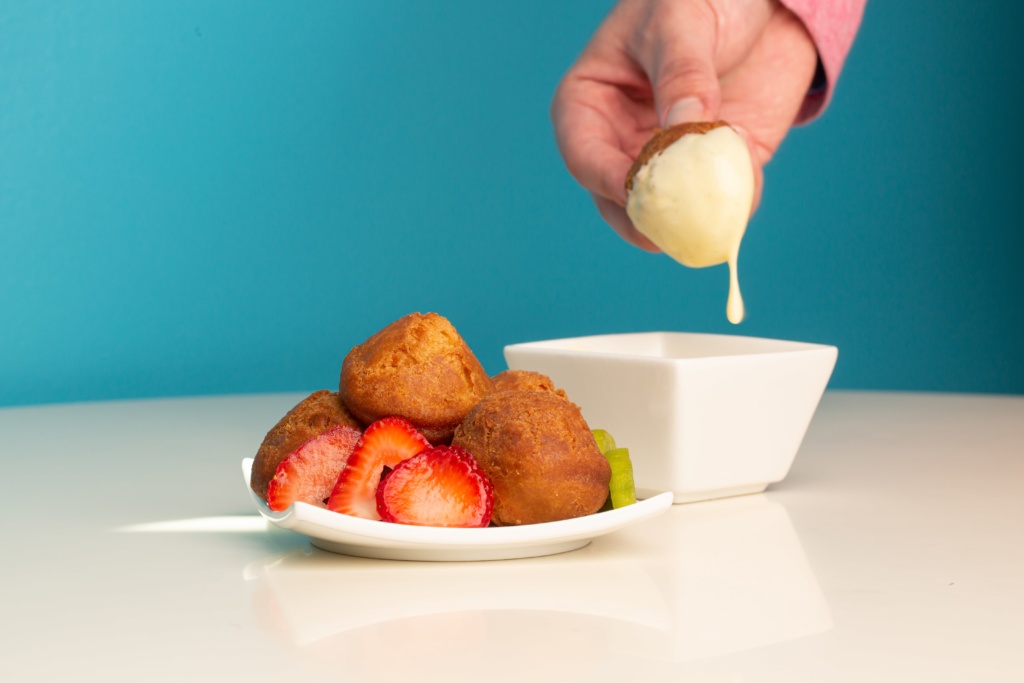 Pastry Chef Tien Lam brings a bit of W whimsy to the breakfast table with a Party Tart, a house-made strawberry funfetti toaster tart, fresh baked croissants and scones (matcha, coconut and almond), TRACE Market Donut Holes with house anglaise, and his very own Tien's Famous Cinnamon Roll. Two types of Balls of Energy (Power and Energy) provide a healthy start to the day, featuring dates, dried cherries, cashews, almonds, and hemp and flax seeds. A wide variety of barista crafted Fonté Coffee Roaster beverages complete the experience.
For lunch, TRACE Market serves sandwiches, salads, bowls, and mains. Highlights include a Jerk Chicken Sandwich with pickled pineapple and a side of Tim's Chips, and an Uli's Sausage Platter, two charred sausages on a bed of red cabbage kraut with creamy potato salad served with stoneground mustard and a Roger's Pilsner cheese dipping sauce. Grab-and-go bowls include a Soba Noodle Bowl with buckwheat soba noodles, pickled vegetables, shiso leaves, enoki mushrooms, shiitake mushrooms, edamame, egg, and radish. The Strawberry and Tomato Caprese Salad with roasted tomato vinaigrette is sure to become a summer favorite.
A new street-side entrance allows direct access to TRACE Market via Fourth Ave. The lofty, reinvigorated 900-square-foot space not only offers a seamless walk-through experience for visitors taking their food on the go, with made-to-order items and convenient reach-in items, it also provides dine-in seating for up to 25. What was a private dining room now serves as a grab-and-go nook with reach-in-stocked breakfast and anytime food items and retail shop. In the not-too-distant future, guests may also utilize their Marriot Bonvoy app to place mobile orders for expedited counter-side pickup.
Encouraging guests to interact with and learn about its Seattle food and beverage sources, TRACE Market will feature periodic Market Pop-Up demo days that bring growers and makers to the space to sample their goods. Seattle's Hone Blends Founder & CEO Christopher Gonzales, will be the first purveyor pop up. The restaurant will also showcase local fine artists' works on an expansive breezeway wall connecting the restaurant to the hotel, starting with a colorful and stunning mural by local artist and yogi Morgan Zion. Murals on this "living art wall" will be re-commissioned on a biannual basis.
TRACE Market's nod to sustainability extends well beyond its ingredients. Planet friendly packaging, a refillable water station, a W-branded and sealed reusable water bottle, and a pilot "Bento Back" exchangeable food container program are some of the ways it plans to help offset global waste, which dovetails with the W Seattle Hotel's greater overarching conservation initiatives.
"When Wade first brought this idea forward, it struck me that he was living up to the W's promise of being an industry disruptor," said Greg Campbell, W Seattle's Director of Sales and Marketing. "Everybody on the team embraced this concept; it emphasizes our hotel's commitment to being global citizens, while still adhering to the root philosophy of TRACE in terms of sourcing and offering an upscale dining experience."
TRACE Market is located inside the W Seattle at 1112 4th Avenue and is open 7 days a week, serving breakfast from 7 a.m. – 11 a.m. and lunch from 11 a.m. to 2 p.m. No reservations necessary. For more information and the complete menu, please visit www.tracemarketseattle.com