Seattle Christmas Market, the highly anticipated European-inspired Christmas village taking place November 24 to December 24 at Seattle Center, announces special events and live entertainment schedule.
To purchase tickets, visit https://seattlechristmasmarket.com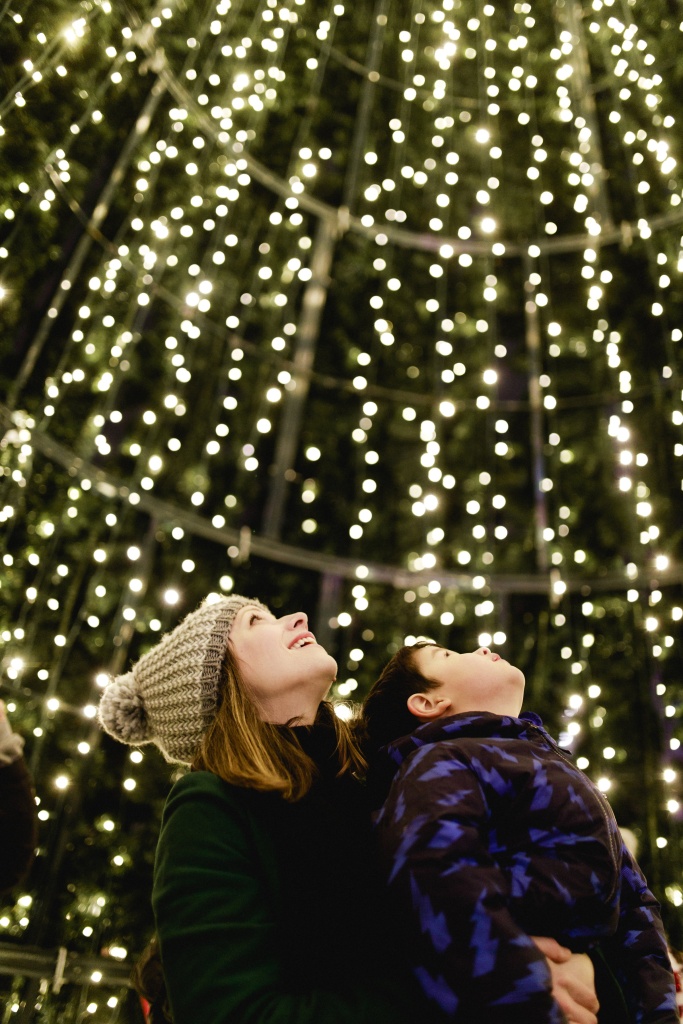 Enjoy Live Music on the Christmas Pyramid's "Flying Stage" every evening from 5pm – 9pm and beginning at 1pm on weekends. From Motown inspired holiday tunes from The Jewel Tones to German songs by the Bavarian Beer Garden Band to jazzy holiday classics and traditional Christmas Carolers, the festive music is sure to inspire impromptu sing-a-longs. Check out the full schedule here.
On Thursday, November 30, enjoy a special performance by an American Idol fan favorite at 8:15pm. You don't want to miss this! Book your time slot in advance, as capacities are limited.
Did someone say karaoke?  Yes! Christmas Karaoke takes place on Monday, December 4 and Monday, December 18 from 6pm to 9pm in the Alpen Haus.
Refresh those holiday facts you've got stored away and dazzle the crowd with your knowledge of Elf and Love Actually. It's Holiday Trivia Night on November 30 from 6pm – 7pm in the Alpen Haus. 
The first three Tuesdays are Date Night. Put on your puffy coat, grab your sweetheart, and stroll under the twinkling lights of Lovers Lane with a mug of Glühwein (hot-spiced mulled wine). Couples receive a buy one, get one free ticket promotion and are encouraged to stop by the Info Hut to purchase a heart-shaped lock that can be added to the Love Lock and Lovers' Lane installation. A very sweet new holiday tradition.
Prolific mural artist Ryan "Henry" Ward takes over the stage in the Alpen Haus for live painting sessions for 10 days. His paintings of whimsical characters will be on display and available for purchase. Hello, perfect gift!
Saint Nick will be in the Alpen Haus every Wednesday from 4pm – 9pm. Swing by with friends and family to enjoy a great photo opportunity and to wish Blue Saint Nick a happy holiday season.  Why Blue Saint Nick?  The color blue was traditional for the German version of St. Nikolaus. Frohes Fest!
Please note that when purchasing tickets online, guests will be prompted to select a date and half-hour arrival time slot. Once guests enter, they are welcome to spend as much time as they'd like while enjoying the wonders of the Seattle Christmas Market.
The Seattle Christmas Market is the perfect place to celebrate the joy and magic of the holiday season.
About Seattle Christmas Market
Founded in 2023, the Seattle Christmas Market is a holiday event inspired by traditional German Christmas Markets. The month-long yuletide celebration takes place at the Fisher Pavilion and South Fountain Lawn at Seattle Center. Local and international artisan crafts and gifts, traditional food and drink, interactive installations, entertainment, and seasonal decorations create the ultimate festive atmosphere to celebrate the magic of the season with friends and family. Stay up to date on exciting event details, advanced ticketing, and all things Seattle Christmas Market by signing up for the newsletter at, https://seattlechristmasmarket.com.
About Seattle Center
An active civic, arts, and family gathering place in the core of our city and region, Seattle Center's mission is to create exceptional events, experiences, and environments that delight and inspire the human spirit to build stronger communities. Seattle Center's 74-acre campus, centered around the International Fountain, is part of the Uptown Arts & Cultural District, home to Winterfest presented by Symetra; and more than 30 cultural, educational, sports, and entertainment organizations; along with a broad range of public and community programs. To learn more, visit www.seattlecenter.com.