Creating caffeinated chocolate since 2016, Sam and Peter of Joe Chocolate Co. recently opened up a storefront near Pike Place Market this June. What started as a class project three years ago has turned into a successful business that is starting to spread to nationwide retailers. While this makes me feel just a touch unaccomplished, I've gotta hand it to them for their unbelievable chocolate, and the buzz that comes with it!
---
What should I order?
If you're eyeing a bag of chocolate, salted caramel and cacao are the most popular flavors, however they also carry flavors such as toasted coconut and honey almond. No flavor is overbearing in the sugar department, and the base of each bark is a rich dark chocolate made with just a few high quality ingredients. 

For drinks, the most popular item is, not surprisingly, their mocha. Rather than using cocoa powder, or sludgy chocolate syrup (ehm..Hershey's), they literally have a pipe from their chocolate confectionary room dispensing ganache into their mochas. This is the sort of stuff I only dream about, and boy oh boy it was as rich and delicious as it sounds. If you're not in the mood for a rich chocolatey drink, their Thai cold brew is a delicious alternative that's not overly sweet or rich, but just as unique and delicious.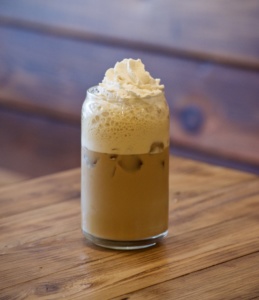 On the baked goods side of things, they've got a rotating variety of cookies, banana bread, and more items that change seasonally. If you're visiting in the summer, you can look forward to loaded ice cream sandwiches or bananas, both dipped in their signature chocolate shell. This winter they may be debuting a chocolate dipped street waffle, and I'm confident it will be as good as it sounds.
What's new on the horizon?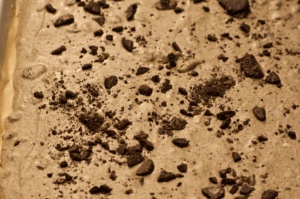 Joe Chocolate Co. has a few things in the works that will be making their way to customers soon. As for the chocolate, they will be releasing a white chocolate cookies and cream flavor. Yum! The base for this bark is made with 100% cocoa butter. If you've never had high quality white chocolate before, you'll be in for a welcomed treat; most white chocolate is only made with 20% cocoa butter. In addition, their frosted peppermint chocolate bark will be making its return for the holidays. They will also be testing out more seasonal flavors, and releasing a subscription box full of their chocolates. I know what I'll be asking for this holiday season!
What if I don't want caffeine, or dairy, or gluten?
While all of the chocolate bark contains caffeine, they offer plenty of baked goods and beverages that don't contain caffeine; some don't even have chocolate! A great coffee-free drink option is their shaken chocolate milk, and if you're going for a different kind of buzz, they do serve local brews. 
Although their baked goods are not gluten free, all of their current chocolate bark flavors are (the cookies and cream will not be). On the dairy side of things, all of their chocolate is dairy free with the exception of the salted caramel. The ganache they use in their drinks is also dairy free, and they offer oat milk to create completely dairy free drinks if that's your jam. 
Where else can I buy Joe Chocolate's?
Joe Chocolate Co. are currently sold at local Whole Foods, QFC, Bartell's, Met Market, and PCC. They are in the process of expanding to retailers nationwide, so you may be able to find some of their chocolate at these retailers in the Western states. If you're not on this side of the country, you can order their products on amazon. Joe Chocolate Co. will also be attending the Northwest Chocolate Festival in Seattle this year, so be sure to say hello and try some samples there!