One of Ballard's longstanding restaurants the Hi-Life makes way for a new
Chow Foods Italian restaurant and bar
 New neighborhood Italian restaurant Valentinetti's is open in Ballard's historic 1911-built Firehouse No. 18. Home to the Hi-Life restaurant for the last 15 years, Chow Foods owner Peter Levy and Chef/partner Anthony Hubbard have reimagined the large space into a more intimate interior with a menu of Italian favorites and a unique newcomer called "pinsa".
Pinsa, a brick oven, Roman-style oval pizza made with fermented dough, provides a new dining option for Seattleites. This artisan, Roman-style baking experience is undertaken at Valentinetti's through sourcing a flour made of wheat, rice and soy from Italy. After the dough is mixed it endures a long cold-fermentation process; then the cloud-like dough is shaped into an oval and topped with ingredients before sliding into a 700-degree brick oven. With the non-GMO flour used and the cold fermentation process, pinsa crust is highly digestible compared to traditional wheat crust.
"We're excited to offer locals a new style of pizza with our Roman pinsa menu," Levy said. "Chef Anthony and Chef Noelle have poured their hearts into this menu, perfecting the technique of pinsa dough. We look forward to our Hi-Life guests returning as well as welcoming in new neighbors to see what we've been cooking up the last six weeks."
With value in mind, simple preparations, thoughtful ingredient sourcing and a firmly rooted Italian lineup, Valentinetti's incorporates fresh, local and imported Italian ingredients while offering options for gluten-free pasta and pizza, as well as items for plant-based, non-dairy, vegetarian and other dining lifestyles. Valentinetti's sources flour from Italy for its traditional pinsa crust, seasonal local produce and Monterey Bay Aquarium Seafood Watch approved sustainable seafood selections.
Chef Noelle Huerta, whose grandparents hail from Sicily and Northern Italy, created the menu alongside Chef Anthony with inspiration from her Italian family traditions. The house baked bread at Valentinetti's is inspired by her family's bocce ball league gatherings with friends and food: a crusty loaf of bread with super refined extra virgin olive oil and aged vinegar for dipping.
For the portion-conscious, pasta entrees have two size options, and a versatile antipasti menu allowing guests flexibility in scaling their meals up or down. Select dishes are offered family-style.
Dinner menu highlights include:
Antipasti: Brick Oven Meatballs house ground beef and pork, San Marzano tomato sauce, pecorino; Calamari Saltado hyper quick sauté of Monterey Bay calamari, Tutto Calabria chili peppers, arugula and lemon; Cavolfiore del Diavolo roast cauliflower, Tutto Calabria chili peppers, lemon, bagna cauda aioli; Mozzarella en Carrozzafried mozzarella and salumi sandwich with pomodoro.
Pinsa: Guanciale pork cheek, mozzarella, pomodoro; Butternut Squash pancetta, Tutto Calabria chili peppers, aged goat cheese, balsamico; Clam fresh local clams, garlic, oregano, red pepper, EVOO, pecorino.
Pasta: Seafood Arrabbiata linguini, clams, mussels, shrimp, tomato, white wine, butter, chili flake; Linguini Carbonara, guanciale, lemon, pecorino; Pesto Strozzapreti carrot top-walnut pesto, sweet peppers.
The menu also includes house baked bread, salads, soups and desserts.
Beverages: Pacific Northwest and Italian wines, Ballard microbrews from Stoup and Maritime Pacific, plus Italian favorite Peroni and Italian inspired cocktails like Viola's Uncle with housemade limoncello, thyme simple, lemon; Val's Negroni with gin, Campari, Salers Gentiane; San Gimignano with Batch 12 bourbon, nocino, orange bitters.
Valentinetti's has also stepped up its standard well liquors with many distilled locally:
Heritage Distilling Batch 12 Bourbon, Batch 206 Counter Gin, Fremont Mischief Vodka. These selections are rounded out with Cutty Sark Scotch, Barcardi Rum and Espolõn Reposado Tequila.
Happy hour is offered daily from 4-6 p.m. in the bar and all day on Tuesdays
$5 draft beers and ciders including Ballard-brewed Stoup Robust Porter and Maritime Pacific Pilsner
$5 house red or white wine
$5 house cocktail of the day
$2-off all glass pour wines
$25 featured wine by the bottle
Food runs $4-5 for antipasti, soup and salad including Brick oven Meatballs, Ricotta Gnocchi, Butternut Squash soup, Fried Mozzarella Sandwich and more. Plus $10 "pinsas" Roman-style brick oven pizza from house made cold fermented dough with options including Meatball, Margherita and Verdura (walnut pesto, roast fennel, tomatoes, arugula, pecorino and aged balsamico)
Weekend Brunch is offered Saturday and Sunday 8 a.m.-3 p.m. 
Uova al Forno Eggs baked with spicy salume, grape tomatoes, pomodoro & pecorino bread crumbs
Verdura Arrosto Hash made of Butternut squash, Lacinato kale, fennel, balsamic onions & polenta
Porchetta Hash Sage roasted pork, peppers, squash, kale & potatoes
Stazione Benedict Crisped polenta, crispy pancetta, spicy Tutto Calabria hollandaise
Firehouse French Toast Macrina Giuseppe in vanilla custard topped with espresso mascarpone & sugared hazelnuts
Trapizzini Roman street food sandwiches in a house baked soft roll stuffed with fillings like Caprese, Meatball, Porchetta or Fungi
Pinsas Roman style brick oven pizza from house made cold fermented dough with options including Guanciale, Clam, Butternut Squash, Meatball and Verdura
Ma Vee's Bloody Mary Peppercorn infused vodka, prosciutto, mozzarella & onion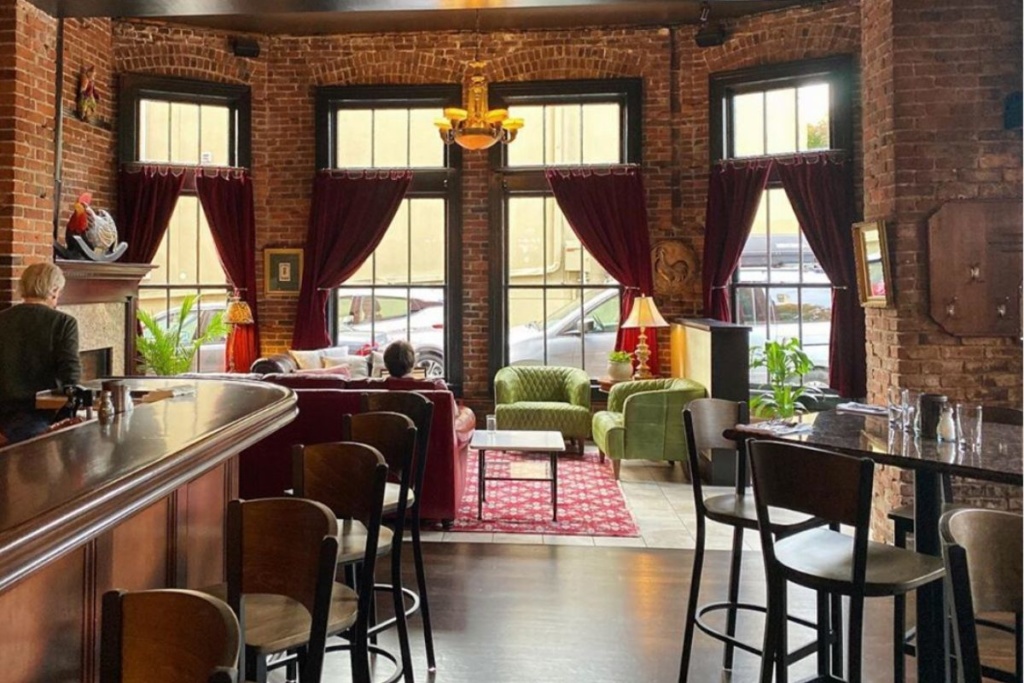 The restaurant space has undergone aesthetic changes for a refreshed look and a more intimate seating plan. Find new lighting, surface considerations and art to set the mood, along with a small area on the south end of the restaurant for periodic puppet shows starting in 2020, to pay homage to the restaurant's namesake, Aurora Valentinetti (godmother of Peter Levy's wife Betty). A brick oven from Woodstone in Bellingham, WA will be on display and will roast and bake a variety of menu items in addition to the pinsa, including meatballs, Cavolfiore del Diavolo (cauliflower) and Pane da Tavola (house Italian bread), as well as an oven baked egg dish at weekend brunch.
Hours
Dinner service is offered daily from 5-10 p.m. Weekend brunch runs Saturday and Sunday and select holidays from 8 a.m. to 3 p.m. in the dining room and bar. Weekday lunch is offered Monday-Friday 11 a.m.-4 p.m. in the bar (21+ only). During the weekday, the dining room at Valentinetti's is be available for private breakfast or lunch gatherings for up to 60 guests.
Contact
Find Valentinetti's in Ballard at 5425 Russell Ave NW, Seattle. Dinner reservations available at
206-708-6894 and online at chowfoods.com/valentinettis.
About Aurora Valentinetti
A former longtime University of Washington professor adored by students for her creative and challenging puppetry courses, Aurora Valentinetti was born in Seattle's Garlic Gulch (Rainier Valley) neighborhood, grew up in West Seattle and was known to put her dinner guests to work in her kitchen while a big pot of Italian gravy simmered on her stove. Valentinetti has a puppet museum named for her in Bremerton which carries on the legacy of her career (she is 99 years old). The forthcoming Italian restaurant will showcase the unfussy, home-cooked Italian food for which she is also beloved.
About Chow Foods 
A city is defined by its neighborhoods, and Seattle is jeweled by diverse, eccentric, highly distinctive and very proud communities. Chow Foods' restaurants including 5 Spot, Endolyne Joe's, TnT Taqueria and the soon-to-come Valentinetti's are located in Queen Anne, West Seattle, Wallingford and Ballard, all 'hoods the Chow Foods team calls home. Favored by locals, Chow Foods pride itself on creating restaurants that reflect the character of the neighborhoods in which they reside. chowfoods.com.